Publication date: 16 September 2020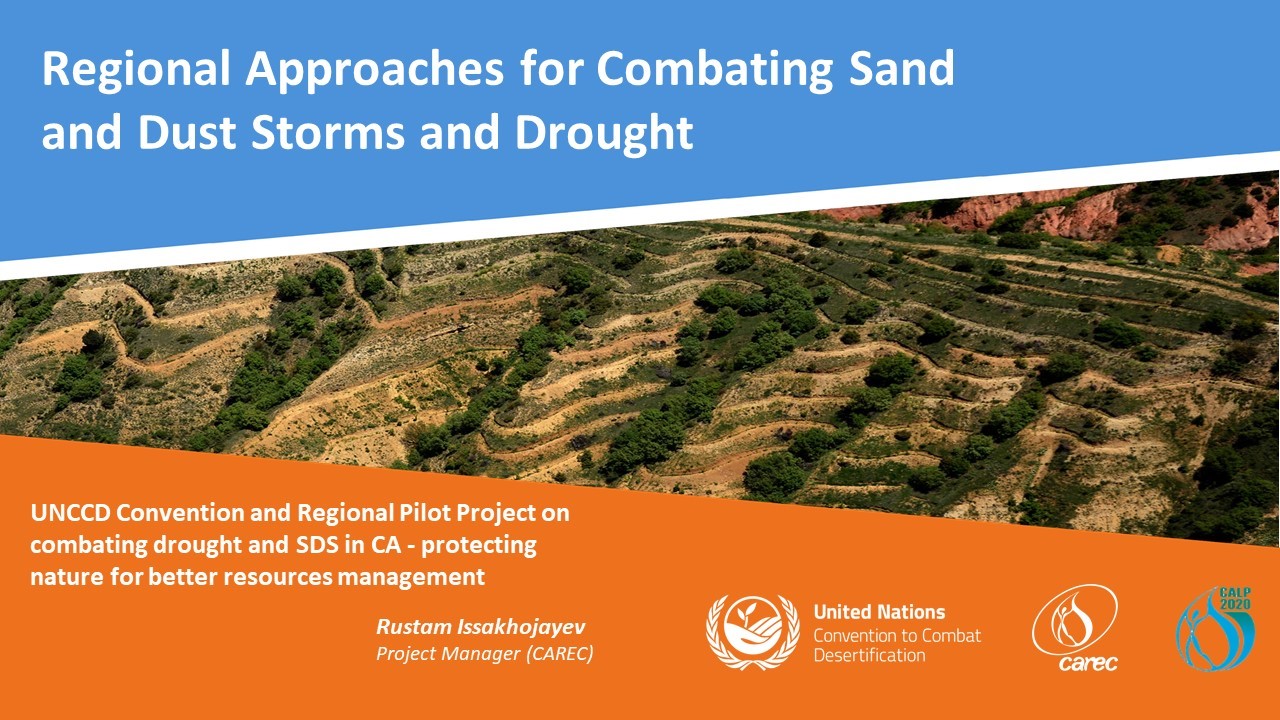 #DroughtRiskManagement #UNCCD #CAREC #DroughtandSDS #Central Asia
On 16 September 2020, Rustam Issakhojayev, the manager of the project financed by the Secretariat of the United Nations Convention to Combat Desertification (UNCCD) "Regional approaches in combating sand and dust storms and drought", presented an overview of the Convention and objectives of the Regional Pilot Project for Central Asia.
On 14 September 2020, the opening ceremony of the 11th CAPL took place. For the first time, the event timed to the "Year of Volunteering in Kazakhstan" was held in online format in connection with the global pandemic COVID-19. The Central Asia Leadership Program is organized by the Regional Environmental Center for Central Asia (CAREC) in cooperation with the United Nations Environment Program and with financial support from the OSCE Office of Programs in Nur-Sultan, the American Agency for Development (USAID), the World Bank, the European Union and the OSCE Secretariat in Vienna.
During his presentation, Rustam Issakhojayev focused on the history of the creation of the UN Convention to Combat Desertification (UNCCD), focusing on existing problems of land degradation, desertification and drought. He also highlighted the main objectives and expected results of the project, and how the regional strategic documents, developed within the framework of the Project, will provide a basis for long-term regional strategy and enable Central Asia to integrate into the other Global Initiatives.
Info:
In January 2020, a pilot project "Regional Approaches for Combating Sand and Dust Storms and Drought" has been launched in all five Central Asian countries. The project is supported by the Secretariat of the United Nations Convention to Combat Desertification (UNCCD) and implemented by the Regional Environmental Centre for Central Asia (CAREC), which works in close cooperation with the Appointed National Institutions and UNCCD National Focal Points in each of the five CA countries.
Countries in Central Asia are highly vulnerable to drought and sand and dust storms (SDS), particularly outside of high-elevation areas where the climate is mostly semi-arid to arid.
In order to assist the participating countries to effectively enhance preparedness and resilience against drought and SDS, the UNCCD Secretariat in collaboration with various partners has developed drought and SDS policy advocacy frameworks. The secretariat has supported the countries in developing national drought plans, methodology frameworks, and tools needed to effectively deal with drought and SDS. Amongst other things, the secretariat has helped develop a set of measures to combat droughts and compiled the SDS Compendium and developed SDS source base-map.
You can find out more about the project by following the links below.
- http://carececo.org/main/activity/projects/droughtSDS/
- https://www.unccd.int/conventionregions/regional-approaches-combat-drought-sand-and-dust-storms-central-asia