Publication date: 18 September 2018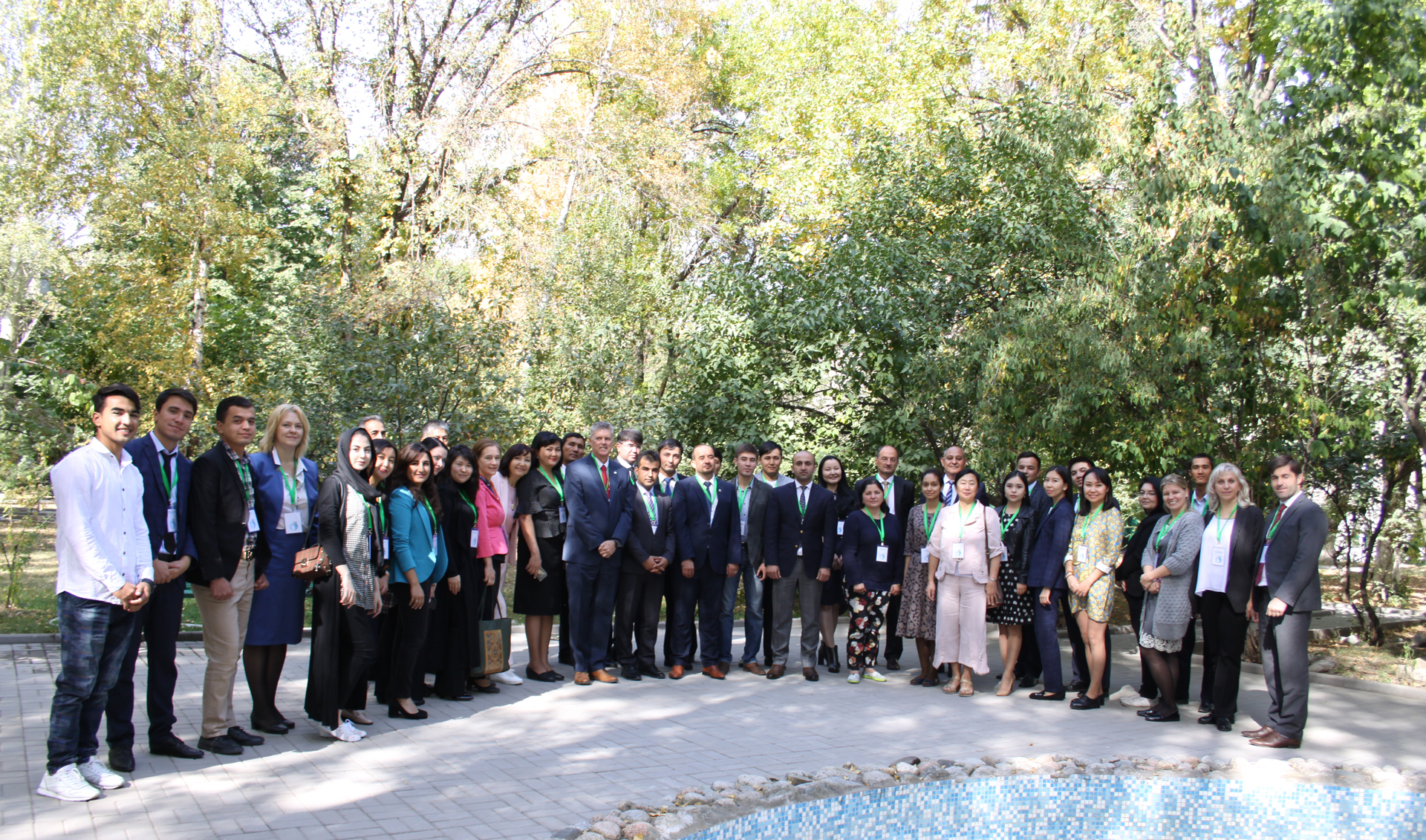 On September 17, the 9th Central Asian Leadership Programme on Environment and Sustainable Development was launched in Almaty. During the week, 32 young specialists from Central Asia and Afghanistan will pass a course on ecology, environmental management, regional cooperation and leadership.
The 9th CALP is conducted by the Regional Environmental Centre for Central Asia in cooperation with the United Nations Environment Programme and with the support of USAID, World Bank, European Union, OSCE, UNESCO and German-Kazakh University.

"Leadership in matters of environmental protection and sustainable development requires not only leadership qualities but also dedication and devotion. Environmental problems can't be solved without faith in the future," CAREC Executive Director Dr Iskandar Abdullayev, addressed the participants. "You can say that nothing depends on you, that you are not holding some important positions. But for a real leader, it doesn't matter what position he works at. The leader will always find the opportunity to express himself and make his contribution."
The opening speeches were also made by the representative of the Ministry of Energy of the Republic of Kazakhstan Aizhan Mammadaliyeva, Director of USAID Regional Office for Economic Development Paul Richardson, Head of the UN Environmental Programme Office in Central Asia Nara Louvsan, Ambassador and the Head of the OSCE Programme Office in Astana György Szabó, UNESCO Chairholder for water management in Central Asia Barbara Janusz-Pavletta. In addition, speeches of environmental specialist of the World Bank Gayane Minasyan and the director of UNESCO's cluster office for Central Asia, Christina Pikkat.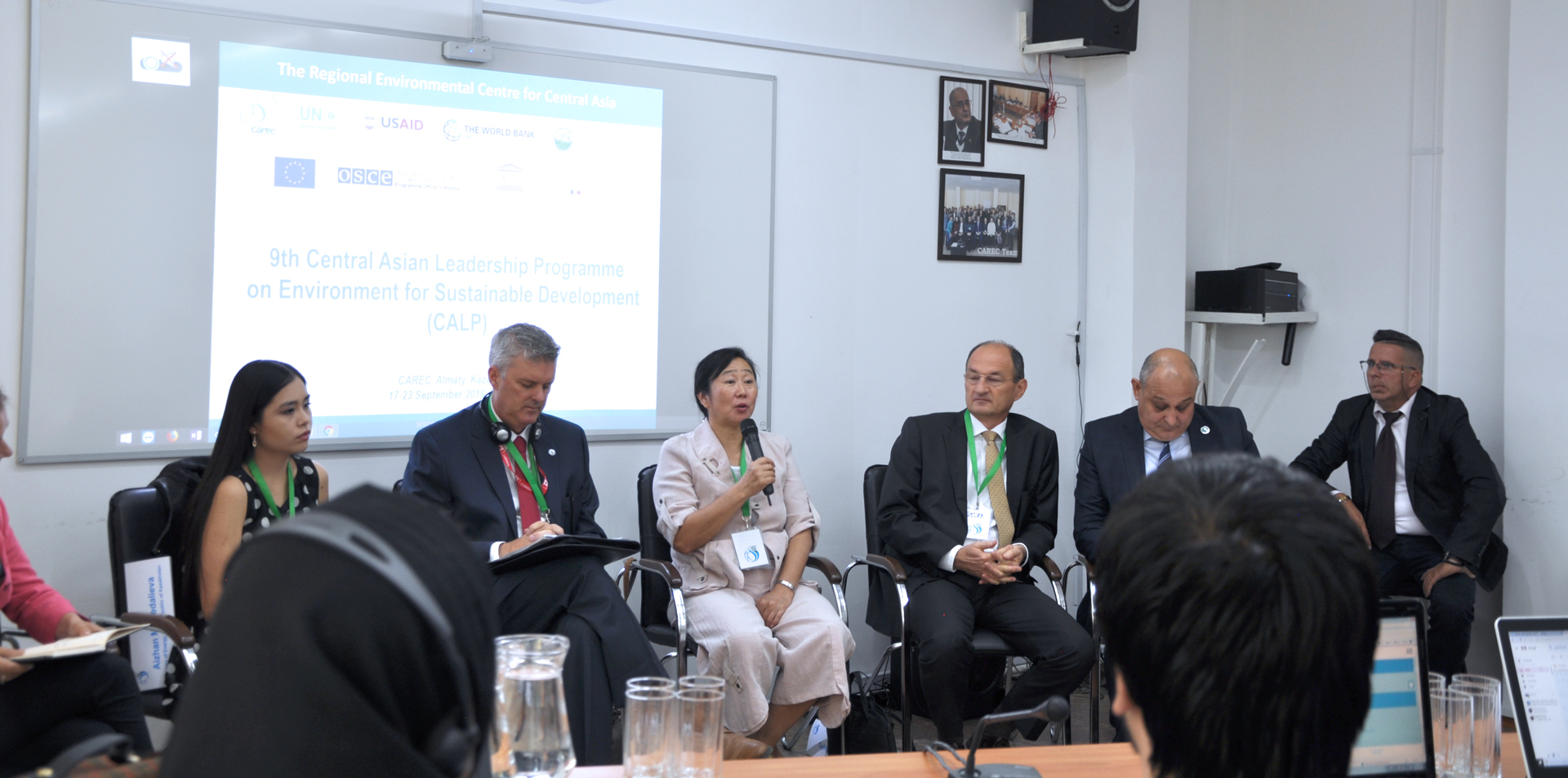 The programme of the event includes sessions on thematic areas: conservation of biodiversity; management of solid domestic waste; interconnection of water, energy, food security; water diplomacy. Separate sessions are devoted to the development of leadership, as well as to global and regional initiatives and platforms for cooperation in the field of environment and sustainable development.
The first day of the CALP was devoted to the introduction to the agenda of the programme, as well as lectures on leadership and global environmental processes: initiatives, conventions, platforms for cooperation. Takhmina Akhmedova, a participant from Tajikistan, shared her impressions from: "I looked at the programme and I now have so many expectations from the CALP. Today I was very impressed, it was very extensive. It included questions of leadership and already such precise issues as conventions, climate change, resource management in the region. I think tomorrow we will study these topics in more detail. This will help to deepen knowledge, improve skills and already lead these issues in our countries."
A participant from Afghanistan, Asma Halimi, said that the first day was very busy. Asma Halimi also noted the positive attitude of other participants: "I'm really delighted to be selected for CALP. The first day was really good. We learned many things. Plus, we have a very friendly environment in here. We've met a lot of people from Central Asia: Kazakhstan, Kyrgyzstan, Tajikistan, Turkmenistan and Uzbekistan. I'm really happy."
Separately, it should also be noted that among the participants of the CALP there are representatives of CAREC. Over the years of the continuation of the CALP, it has become a tradition to allow for participation of several assistants or interns of CAREC. This year, CAREC Water Initiatives Support programme's assistant Shynar Sarikenova and Education for Sustainable Development programme intern Lyazzat Syrlybaeva participate in CALP.
Lyazzat Syrlybaeva noted that she got acquainted with a large number of people. She also shared her impression on the sessions: "The presentations were good, all was very informative. The interactive session on leadership was very useful. Shakhboz Ahmedov gave a lot of information on literature, which can be read on this topic"
There are still five days of training ahead. Participants will receive more detailed lectures on environmental protection and management. And on the last day of the programme, the young leaders will go to the solid waste processing plant, the power station of the AEI and the eco-settlement in Almaty region.