Publication date: 25 November 2016
CAREC in Paris: Inaugural Meeting of the Green Action Programme
November 24-25, 2016, Paris hosted the Green Action Programme Inaugural Meeting in headquarters of the Organisation for Economic Co-operation and Development's (OECD), which brought together guests from Eastern Europe, Caucasus and Central Asia (EECCA) countries as well as partner organizations to shape the work of the GREEN Action Programme.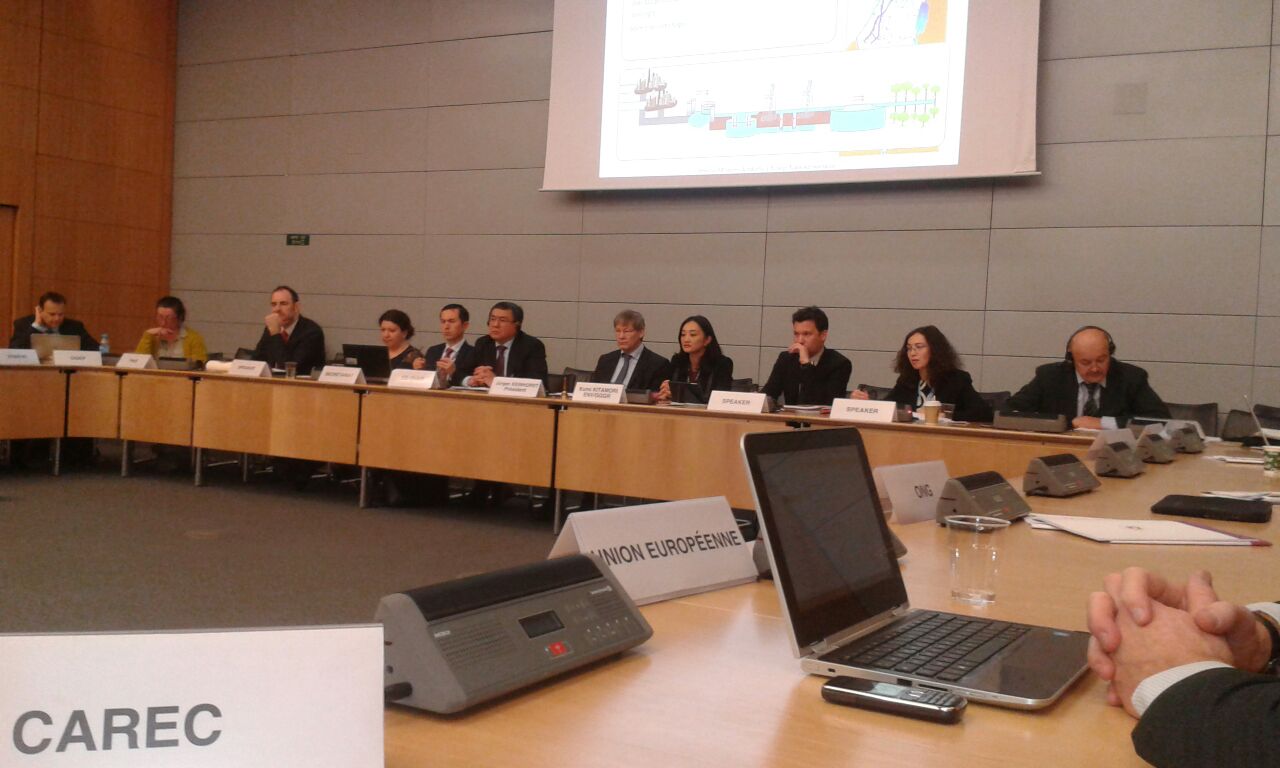 Provided the new GREEN Action Programme launched during the Ministerial Declaration of the 8th Environment for Europe (EfE) Conference (Batumi, Georgia, 8-10 June 2016), the meeting determined how to continue the existing cooperation with governments and civil societies in the EECCA region in order to help implement policies that are economically efficient, environmentally sustainable and socially acceptable, while also providing an opportunity to speak about the Work Programme for 2016-2018.
First day of the Meeting was opened by Mr Douglas Frantz, Deputy Secretary-General, OECD, Jürgen Keinhorst, Head of the Division for Cooperation with Eastern European Countries, Central Asia and the South Caucasus, the Middle East and North Africa, Mr. Simon Upton, Environment Director, OECD.
This year's meeting agenda will focus in particular on the following elements:
· Outcome of the Batumi Conference and BIG-E pledges (Batumi Initiative on Green Economy)
· Promoting green investment and finance
· Accelerating economic and environmental policy reforms for green growth in EECCA
· Water-related innovations in support of green economic development in EECCA
· Education, awareness raising and communications for sustainable development and green growth
· Mapping of activities supporting greening of the economy in EECCA

_______________________________________

CAREC was presented by Ms Lyudmila Kiktenko, Environmental Programme Manager. She told about new projects, which promotes environmental investments in Central Asia, news about identification of SDGs of regional interest, efforts to update regional action plans (Aral sea basin plan and Regional environmental action plan), and existing platforms for regular and strategically facilitated dialogues including Central Asian Environmental Forum).
Background
Since the 1990s, GREEN Action Programme: Greening the Economy in Eastern Europe, Caucasus and Central Asia, has supported countries of Eastern Europe, Caucasus and Central Asia (EECCA) to reconcile their environment and economic goals thus addressing the heavy environmental legacy of the Soviet model of development.
This support has been provided within the framework of the Task Force for the Implementation of the Environmental Action Programme (the EAP Task Force). Ministers attending the 8th "Environment for Europe" Ministerial Conference (2016) decided to change its name to the GREEN Action Programme and invited the OECD to continue facilitate policy reforms in the EECCA region.
Photo for collage from the main page: Insider City Guide