CAREC implements regional components of project on climate change
The five Central Asian countries are among the most vulnerable to climate change in Eurasia, and building resilience to climate mounting impacts is a priority for poverty reduction and shared prosperity in Central Asia. Minimizing vulnerability to climate change and generation of new climate related knowledge through the development of methodologies, tools and approaches, information exchange, capacity building and involvement of all stakeholders are the main approaches in addressing climate change consequences in Central Asia.
___________________________________

August 4, 2016 is marked with the start of the regional project «Climate Adaptation and Mitigation Program for Aral Sea Basin» (CAMP4ASB), which will be implemented in 2016-2021.

The project aims to enhance regionally coordinated access to improved climate change knowledge services for key stakeholders (e.g., policy makers, communities, and civil society) in participating Central Asian countries as well as to increased investments and capacity building that, combined, will address climate challenges common to these countries.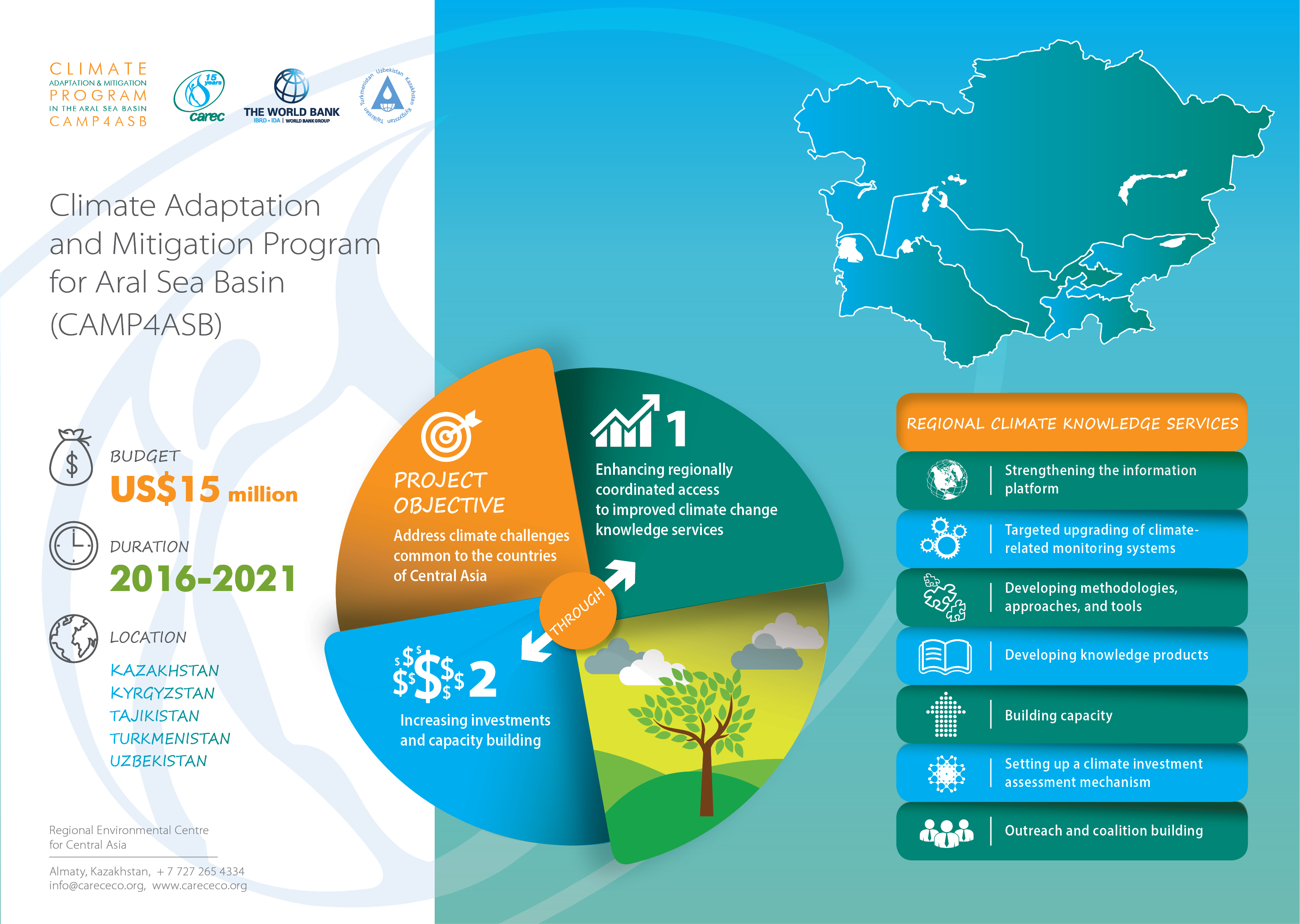 The partners of the project are the World Bank, Executive Committee of the International Fund for Saving the Aral Sea (EC IFAS), and national implementing partners in Central Asia. The Regional Environmental Centre for Central Asia (CAREC) acts as a Regional Coordination Unit (RCU), being responsible for the implementation of regional components, which include the development of methodologies, approaches, and tools on climate change, targeted modernization of monitoring systems, formulation of knowledge products, capacity building, as well as promotion of mechanism for climate investments assessment. It is expected that the project will providean opportunity for the countries of Central Asiato access best climate related knowledge and information, and will enhance the regional cooperation.
As of today, RCU has completed its staff employment, finalized the work plan to be implemented during the first 12 months of the project and accomplished main administrative and financial paper work. First meeting of the Regional Steering Committee (RSC), which is the project's highest steering body, was conducted on October 10, 2016. The main outputs of the meeting were to introduce the project to its members and agree on first interventions towards its implementation.
____________________________________

Next step of the project is to conduct national consultation meetings in the countries of Central Asia for assess climate related data, knowledge and information needs to sharpen the overall vision of the project implementation and formulate detailed scope of activities in the context of CAMP4ASB regional components.

These consultations also aim to identify areas of cooperation and enhance synergy with international agencies on climate related projects and initiatives, which are being implemented in the countries of Central Asia.

More detailed information about CAMP4ASB project is available here: link
More about RSC meetingis here: link
Download infographic on CAMP4ASB project