Publication date: 02 July 2018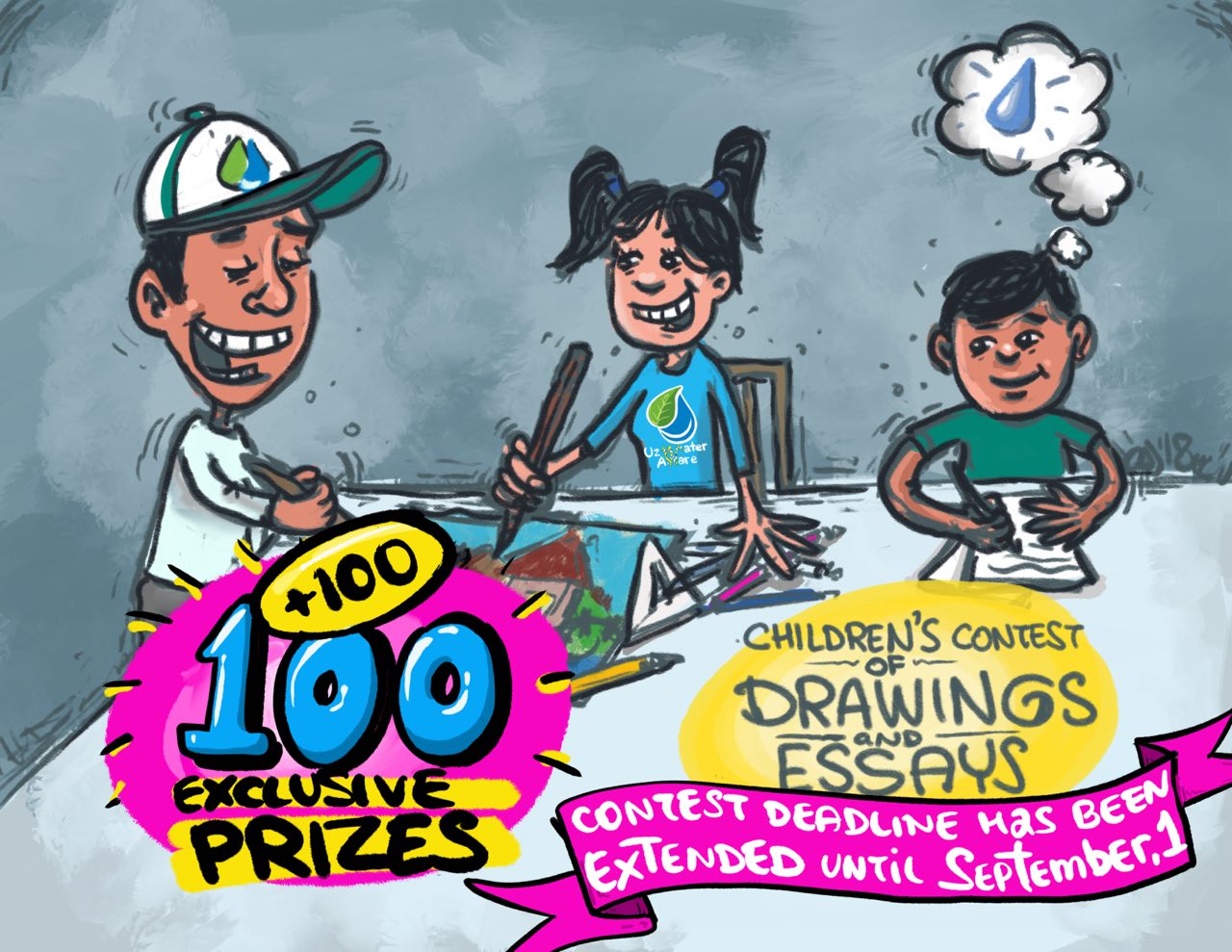 Attention! The UzWaterAware project extends the contest of drawings and compositions "Earth and Water", "My Uzbekistan and Water Resources" for the summer holidays and increases the number of gifts to 200 pieces!

It is important for organizers that as many as possible children can take part in the competition. And children from the regions of Uzbekistan, including pupils of creative circles at the branches of "Barkamol avlod", and children who rest in summer camps, manage to transfer their drawings and essays by e-mail uzbekistan@carececo.com or through the regional branches of the children's centre "Barkamol avlod". Children can take part in the competition all over the country from the age of 6 to 16. Works are accepted until September 1, 2018.
Each year on March 30 the world celebrates the Earth Protection Day, it aims to unite people of our planet to protect the environment. On this day, within UzWaterAware project, which is funded by European Union, CAREC Branch in Uzbekistan announces children's contest on the following topics: "Earth and water", "My Uzbekistan and water resources".
Children at the age of 6-16 from all over the republic are welcome to participate. CAREC accepts applications until September 1, 2018. The contest works are divided into three categories:
Category 1 – pupils of 1-4 classes,

Category 2 – pupils of 5-7 classes,

Category 3 – pupils of 8-9 classes.

UzWaterAware Project Manager Dr Jusipbek Kazbekov explained the main goal of the contest: "Within our project, we are trying to attract the attention of the entire population of Uzbekistan to water issues and efficient consumption of water for the future. And work with children in this direction is of particular importance. Children should learn a respectful attitude to water, nature and the environment in general from the very childhood. We hope that this contest will help us in this".
The pictures with thematical titles and/or creative essays are accepted to the following e-mail: uzbekistan@carececo.org. The application must include parents contacts and brief information about participants. Also, it is recommended to mark the letter as "Children's contest of UzWaterAware project".
Best authors in each category will receive valuable prizes, and creative works will be awarded with consolation prizes in different nominations.
For your information! What can you do on the Earth Protection Day? Clean trash outdoors and near water resources – ditches, ponds; plant trees and other greens; walk or ride a bicycle instead of using a car.
For more information about UzWaterAware, please, follow the link.