Publication date: 24 November 2022
On November 3, 2022, in Almaty, the Regional Environmental Center for Central Asia (CAREC) and the Kazakhstan Agency for International Development KazAID (KazAID) signed a memorandum of understanding and cooperation
Zafar Makhmudov, CAREC Executive Director, and Dastan Yeleukenov, KazAID Board Chair, signed the document. During the ceremony, the Parties agreed to work together to strengthen regional cooperation as part of efforts to further sustainable development goals in Central Asia.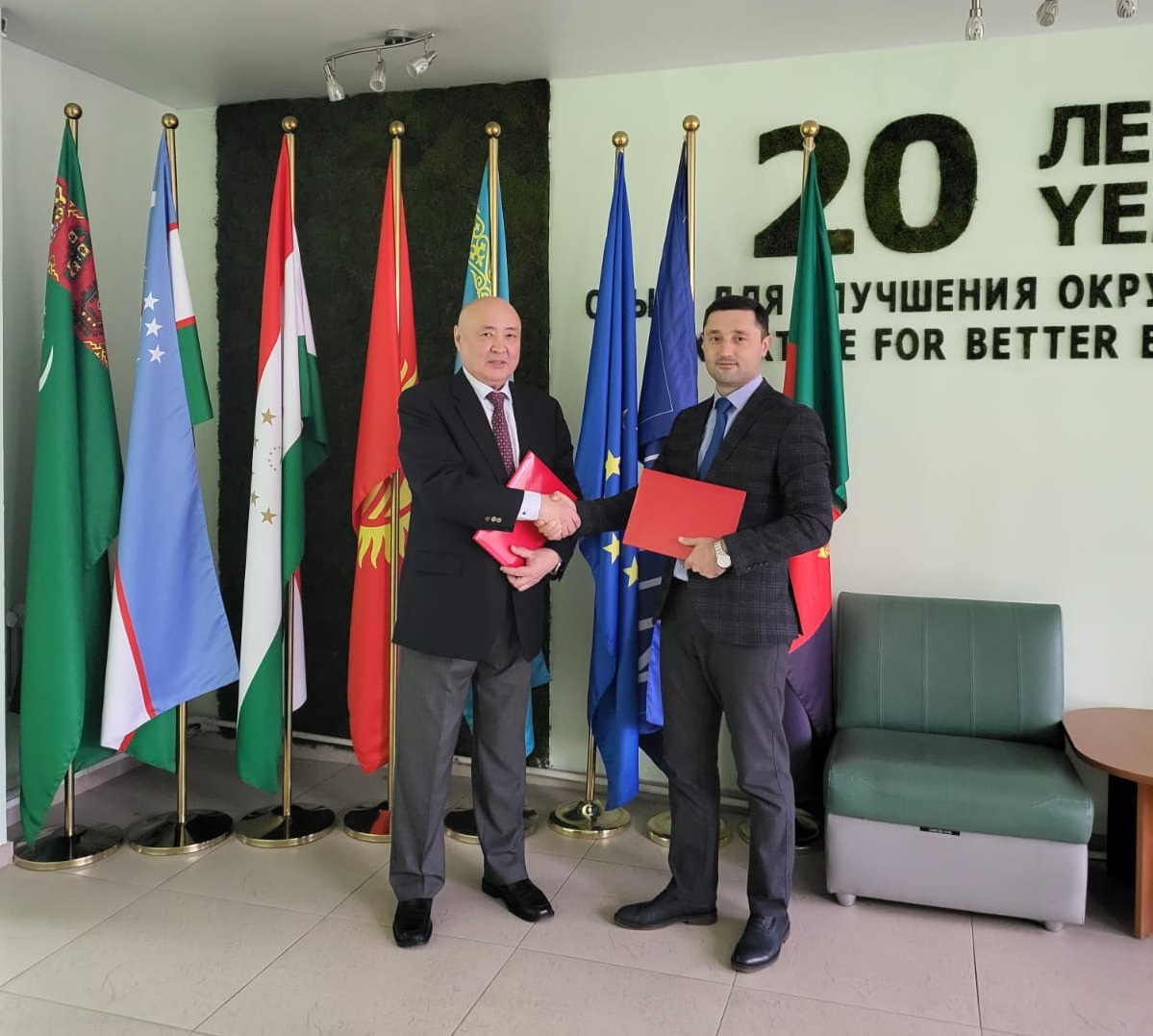 KazAID Board Chair Dastan Yeleukenov emphasized the importance of the signed Memorandum and noted that cooperation with CAREC contributes to the implementation of the Agency's mission of providing official development assistance to Central Asian countries in the field of environmental protection and adaptation to climate change, including the development of regional environmental initiatives. The memorandum between CAREC and KazAID will allow consolidating efforts, expertise and resources of the two organizations.
CAREC Executive Director Zafar Makhmudov noted that one of the areas of cooperation will be the further institutional development of CAREC, which will strengthen the organization's mandate and expand its operational capabilities. CAREC and KazAID will implement joint projects aimed at improving the access of all stakeholders to environmental data and other analytical products in partnership with the Swiss Agency for Development and Cooperation (SDC), the German Society for International Cooperation (GIZ) and the World Bank. In particular, an information center will be created on the basis of the Central Asian Climate Information Platform (CACIP). Zafar Makhmudov underscored that CACIP will become a comprehensive information and education hub that will provide knowledge about climate change and adaptation measures in the Central Asian states.
As part of cooperation, KazAID will provide support to CAREC in institutional development and in strengthening its staff capacity. The Agency will provide an expert on project management and development, who will participate in the implementation of CAREC projects related to addressing issues of environmental protection and sustainable development.
The memorandum between CAREC and KazAID is concluded for a period of two years with the possibility of extension. The parties expressed confidence that the Memorandum will expand regional cooperation aimed at advancing the goals of sustainable development, environmental protection and climate change mitigation, which will benefit residents of the entire region.