Publication date: 24 September 2016
CAREC at a World Bank Forum & Expo: Central Asia Water Future
September 19-23, 2016, Almaty, CAREC delegation participated in Central Asia Water Future Forum & Expo. The conference highlighted the issues on monitoring and data visualization, tools for analysis as well as opinions on Central Asian water resources future and beyond.

September 20

«Tools for Analysis» session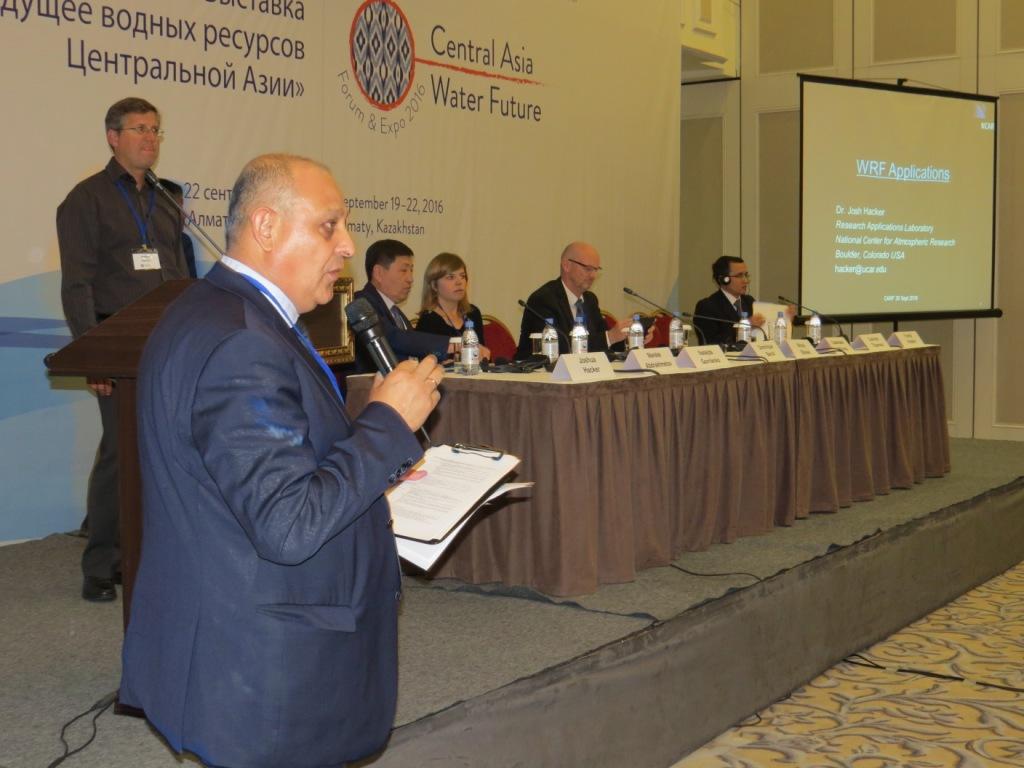 This session of the second day was moderated by Dr. Iskandar Abdullaev, CAREC Executive Director, and Mr. Bekhzod Parmanov, the representative of the Islamic Development Bank. During the session, participants discussed various innovative tools and methods for analysis including Weather, Flow, and Flood Forecasting systems, National Meteorological System, World Meteorological Organization (WMO) basic hydrological systems, Indian online management system of water quality, flood forecasting system, water management framework in Amu Darya and Syr Darya basins.
September 21

«Water Information for Governance Support» session
On the third day CAREC was featured by the participation of Ms. Nailya Mustaeva, Climate Change and Sustainable Energy Programme Manager, who gave a presentation on the «Transformation from a sub-regional cooperation platform to the knowledge hub: potential opportunities and challenges in the context of CAMP4ASB».


Moreover, the participants of CAREC's flagship initiative the Seventh Central Asian Leadership Programme on Environment for Sustainable Development (CALP 7), which is taking placing from 19-27 September 2016, also visited the Forum & Expo this day – young leaders from Central Asia and Afghanistan were exposed tothe world best practices on the modernization of information systems and management of water resources.
This was followed by a master class on «CAREC Approach», which was conducted within CAREC's expo in the event by
Ms. Lyudmila Kiktenko
, Manager of the Environmental Management Programme Manager (EMP), and
Mr. Kuban Matraimov
, an EMP specialist.


September 22

A group of high-level representatives and delegates from International Scientific and Practical Conference «Water recourses of Central Asia and their use» visited CAREC's expo. Among the guests were
Mr. Nysanbaev E.N
, Vice-Minister of Agriculture of Kazakhstan;
Mr Amrein A.K
, Vice-Minister of Education and Science of RK;
Mr. Gulov T.G
, Head of water resources management at the Ministry of Energy and Water Resources of Tajikistan;
Mr. Beydzhanov Guyzgeldy
, Deputy Minister of Agriculture and Water Resources of Turkmenistan;
Mr. Khamraev Sh.R.
, Deputy Minister of the Republic of Uzbekistan Agriculture and Water Resources and many other representatives of ministries and departments, regional and international organizations.
Mr. Said Sharipov, Specialist of Water Initiatives Support Programme presented the booth «CAREC knowledge and approaches», where he underlined basin planning, policy dialogues, exchange visits and study tours, academic networking. This activity raised high interest among visitors to the topic and triggered interactive discussions on the spot.
_____________
The participation at the event recalibrated CAREC's partnerships through organizing several bilateral and multilateral meetings with various ministries and departments, regional partners and international organizations, and inviting a number of high-level speakers of the Forum & Expo as lecturers to the 7th Central Asian Leadership Programme on Environment for Sustainable Development.