Publication date: 24 May 2016
CAREC goes global: highlights of CAREC's exposure to international events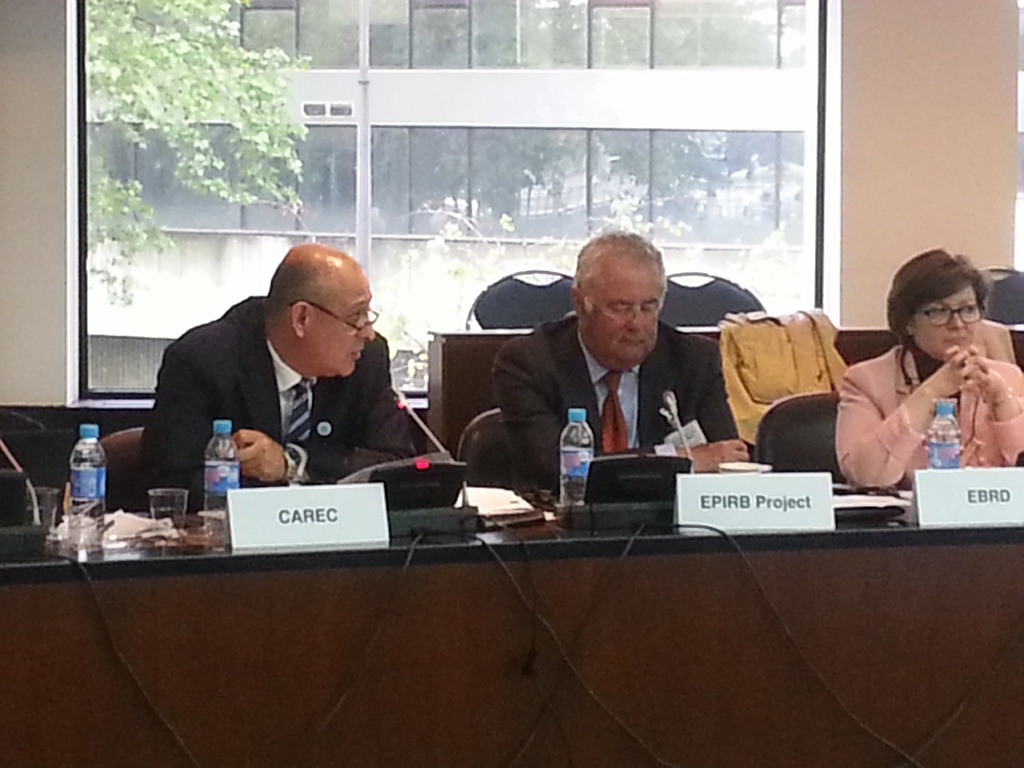 Countdown to the historic occasion of CAREC has kicked off. A bit less than a month ahead of the international conference scheduled for 21 June 2016, on the occasion of its 15th Anniversary, which is a milestone event for the organisation, СAREC is actively taking part in many events around the world. While intensively preparing for the Eighth Environment for Europe Ministerial Conference to be held on 8-10 June 2016, in Batumi, Georgia, CAREC has been exposed widely to international partners and donor community through a series of important events on environmental matters over the past few months.
As research activities of CAREC are becoming an integral part of its activities, keynote speech delivered by Dr Iskandar Abdullaev at the workshop for the future of water related research collaboration between the EU and Central Asia held in Athens, on 11-12 April 2016, was received with high interest by participants and IncoNet as well as EC Research and Scientific Directorate highlighted the growing research capacity of CAREC and potential for cooperation in this regard. The sides identified key areas for future joint research activities, namely data, agriculture, food, development of technologies, socio-economic research and water related hazards.
The policy dialogue, organized by the United Nations Economic and Social Commission for Asia and the Pacific aiming to identify driving forces that may shape the energy agenda for the coming years held on 25-27 April 2016, Bangkok, Thailand, addressed the underlying issues relevant to energy security and the sustainable use of energy by exchanging views of stakeholders. CAREC contributed to the working sessions and presented an overview of the climate policies in Central Asia, which could feed the 2030 Agenda for Sustainable Development and SDG 7 in particular, align mid-term priorities of low-carbon path to sustainable energy development, and promote South-South cooperation especially in terms of technology transfer, capacity building and resource mobilization.
Held annually, meetings of the European Union Water Initiative Eastern Europe, Caucasus and Central Asia (EUWI EECCA) Working Group, have always been a significant water cooperation platform for the regions of Europe, Caucasus and Central Asia. This year's meeting was held on 12-13 May 2016 in Paris where CAREC delegation delivered statements focusing on Central Asian water cooperation matters. Highlighting the processes and challenges in water cooperation across Central Asia, CAREC Executive Director, Dr Iskandar Abdullaev, emphasized the vital importance of enhanced water collaboration in the region, whereas Ms Ekaterina Strikeleva, Advisor on Large-scale Inter-Program projects of CAREC, delivered a presentation reflecting upon features of starting soon water diplomacy project funded by the Swiss Agency for Development and Cooperation.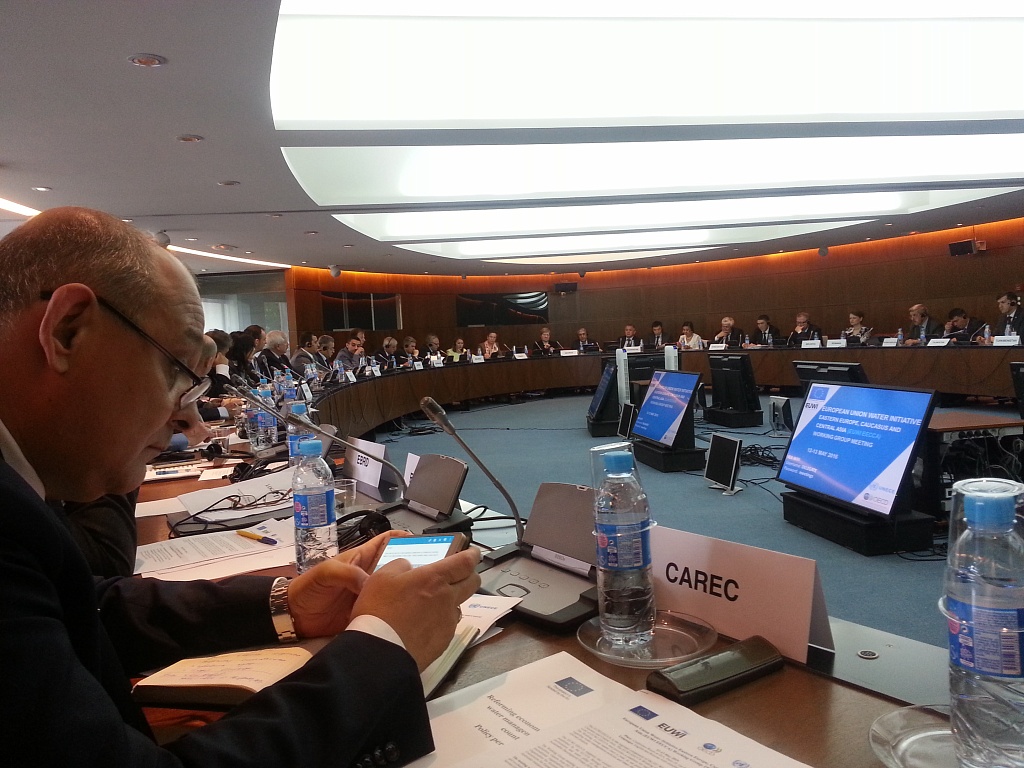 Following Paris meetings, Dr Abdullaev held bilateral talks with the representatives of CGIAR consortium – a worldwide partnership addressing agricultural research for development and contributing to tackle poverty, hunger and major nutrition imbalances. His visit to CGIAR consortium's head office in Montpellier paved a firm ground for further cooperation with CAREC opening up dialogue and activities opportunity in fields of mutual interest. The meeting concluded with the decision to exchange experiences and practices and sign a memorandum of understanding for cooperative efforts in relevant fields.
On 17-19 May, 2016 in Bonn, Germany, Ms Nailya Mustaeva, Manager of Climate Change and Sustainable Energy Programme and Advisor on Science and Research of CAREC, took part in the Expert Group Meeting for Recommendations on EU-CA Science, Technology & Innovation Cooperation in Climate Change and in SB 44 Climate Talks in Bonn within the framework of climate change conference. If through the first event CAREC shared its experience on existing practices on climate change research and explored research cooperation within the Horizon 2020 programme of the European Commission, the latter one was featured by a CAREC exhibition which gathered many participants interested in Central Asian climate change challenges.
On the same dates, the Business Conference of the German OSCE Chairmanship "Connectivity for Commerce and Investment" held in Berlin was attended by Dr Abdullaev following the invitation of the German Foreign Minister Dr Frank Steinmeier. Aiming at discussing cooperation and economic exchange across borders to help to create and preserve peace, stability and prosperity, this high-level conference brought together representatives of companies and public institutions of the 57 participating States as well as the OSCE's 11 partner countries. Participants highlighted the issues of economic connectivity in the OSCE region and discussed the ways to establish and deepen international networks and made suggestions to the political work of OSCE bodies.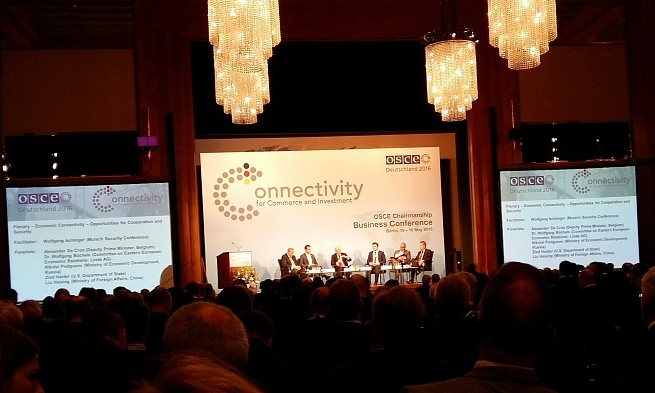 Another important international event featured by CAREC is UNEP Global Major Groups and Stakeholders Forum prior to UNEA-2, May 21 – 22, 2016. Represented by Ms Saltanat Zhakenova of CAREC, the centre's participation is featured by a presentation addressing health and environment issues of Central Asia. The ongoing conference brought together different stakeholders to work together to tackle the shared and unprecedented challenges the world is facing and deliver on the environmental dimensions of sustainable development.
Developing as a knowledge hub and key catalyst to enhance cooperation on environment and sustainable development across Central Asia, CAREC has become the leading environmental organization in the region, which is today recognized by national, regional as well as international partners. Its exposure to key global initiatives through the series of events highlighted above reflects upon its commitment to tackling global environmental challenges and promoting dialogue and cooperation in its region of operations.