Publication date: 27 May 2021
Conservation of Ramsar wetlands in Central Asia: Current Results and Strategic Plans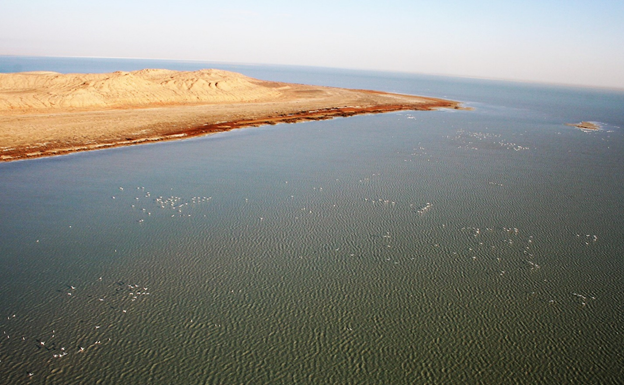 Photo credit: Dagada Island from the Ramsar List of Wetlands, Turkmenbashi Bay (Rustamov Eldar Anverovich)
Another annual meeting of the Coordinating Committee of the Ramsar Regional Initiative for Central Asia (CC of RRI-CA) took place online on May 26, 2021.The meeting was aimed towards summarizing the results of RRI-CA work for 2016-2021 and planning the upcoming Jubilee meeting to mark the 5th anniversary of this International Organization in Central Asia and its further development within the strategic directions of the Ramsar Convention.
14 participants took part in the meeting: focal Points of the Ramsar Convention and members of the CC of RRI-CA nominated by the Republic of Kazakhstan, the Republic of Uzbekistan, Kyrgyz Republic and Turkmenistan, as well as representatives of observer organizations such as the World Wildlife Fund of Russia and the Regional Association of NGOs in Western Kazakhstan "Tabigi Orta" and CAREC observers.
Participants discussed the results of the Initiative's work and agreed how they will be presented at the RRI-CA's Jubilee meeting on July 21st. The CC of RRI-CA expanded its membership with new experts from the region, with new work plan for 2021-2024, and executive members were re-elected for a new term according to the new Regulation of the CC of RRI-CA: Chairman and Vice-chairman.
Maksim Mitropolsky (Uzbekistan) was elected to the position of Chairman of CC of RRI-CA, replacing Eldar Anverovich Rustamov (Turkmenistan), who had held this position for the last three years.
During these years RRI-CA under the leadership of E.A. Rustamov implemented several regional projects, took part in preparatory conferences of the parties and COPs of the Ramsar Convention, participated in meetings of the Secretariat's monitoring committees, which allowed to strengthen reliably the status of Central Asia in the issues of conservation and rational use of wetlands at the international level.
Maksim Mitropolsky is an international expert on biodiversity conservation, mainly in the Central Asian Flyway wetlands. In Uzbekistan, he is a CEPA (Communication, Education, Public Awareness) national expert of the Ramsar Convention.
Adilbek Kozybakov (Kazakhstan) was elected as a vice chairman instead of Askar Davletbakov (Kyrgyzstan). He is the chairman of the board of the Regional Association of NGOs of Western Kazakhstan "Tabigi Orta", member of the Republican Ecological Council of "Nurotan" party. He is also a representative of the Mangystau region in the profile ministry of Kazakhstan and in other organizations, and is known not only in the Mangystau region, but also among environmentalists throughout the region. Adilbek Kozybakov has an extensive experience of working with the population, which is important because one of the priorities of RRI-CA is to work with local communities in the Ramsar wetlands areas.
More information about RRI-CA, its activities and opportunities can be found on the official website of CAREC.
Link to RRI-CA page on official CAREC website in Russian - https://carececo.org/main/activity/projects/ramsarskaya-regionalnaya-initsiativa-tsentralnoy-azii-rri-tsa/
Link to RRI-CA page on official CAREC website in English - https://carececo.org/main/activity/projects/ramsarskaya-regionalnaya-initsiativa-tsentralnoy-azii-rri-tsa/