Publication date: 19 October 2017
Discussing international water law to strengthen regional co-operation
On October 16-17, 2017 – a workshop on water law was conducted in Dushanbe, Tajikistan by the Regional Environmental Centre for Central Asia (CAREC) within the Smart Waters Project, financed by USAID. The workshop was aimed at reviewing principles for sharing water resources, best practices in river basin management, and fundamentals of water law.

As Daler Kholmatov, Head of the Department of Water policy under the Ministry of Energy and Water Resources, underlined, "Taking into account current efforts of Tajikistan in lobbying the water sector reforms, this workshop is conducted at the right time. It gives a unique opportunity to the stakeholders to review the legal processes considering the global experience".
While the world is facing more than 200 disputes related to water issues, the legal framework becomes the driving factor for their solution and prevention. The majority of water resources in Central Asia are of transboundary nature, but many of the existing regulations are obsolete and require revision with respect to international experience and needs of the region. Therefore, the agenda of the workshop included reviewing the basic principles and norms of international water law, mechanisms of international co-operation in the protection and use of water resources.
The two-day event brought together representatives of government ministries, state institutions and non-governmental and international organizations as well as professors and university students working in the field of water, energy, and agriculture in Tajikistan. It is the first workshop in a series planned in other countries of Central Asia and Afghanistan aimed at introduction the international water law, fostering cooperation and building networks among government, civil society and academia.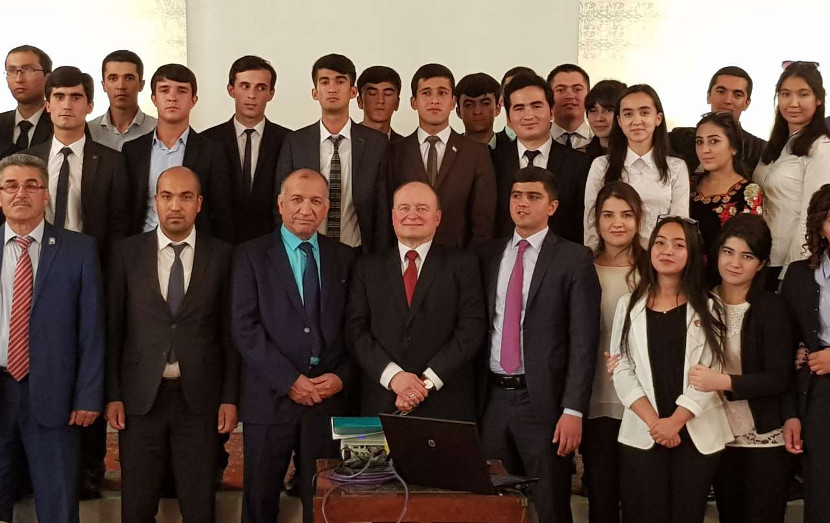 Sergei Vinogradov, Professor at the University of Dundee in the United Kingdom, an internationally recognized expert on international water law, led the workshop. Inspired by his presentations, Takhmina Rafiyeva, Deputy Dean of the Economics and Water Diplomacy of the Tajik Technological University, said: "This workshop is a unique opportunity to learn more about the international water law for students, researchers, and professors of universities. This will enlighten student with students of international water law, and allow to conduct better focused research"
"We believe that Central Asian countries have a solid basis for becoming flagship countries in resolving water related issues, using best practices of the international water legal framework and with deep knowledge of realities of the region" – added Farkhod Abdurakhmonov.
Since 2015, the CAREC has been implementing USAID supported the Smart Waters Project in five countries of Central Asia and Afghanistan. The project aims at facilitating network creation and strategic advice on sustainable management of water resources, policy development, regional water dialogue and capacity building.