Publication date: 27 October 2017


October 23, 2017, Sacramento, CA, USA. CAREC's research team consisting of Dr. Iskandar Abdullaev, Mr. Atabek Umirbekov and Dr. Jusipbek Kazbekov paid a visit to USGS-CAWSC to exchange ideas and knowledge on climate change and water research and discuss potential cooperation oppоrtunities. The team met with Dr. Eric Reichard (Director), Dr. Judith Drexler (Wetlands), Dr. Paul Work (Hydrologist), Dr. Michelle Stern (Water Modeling) and Dr. Jim Orlando (Sea Restoration). The visit is organized within the research project "Provision of science based evidence on climate induced water quality challenges in Amu Darya basin" implemented by CAREC in partnership with the University of West Virginia.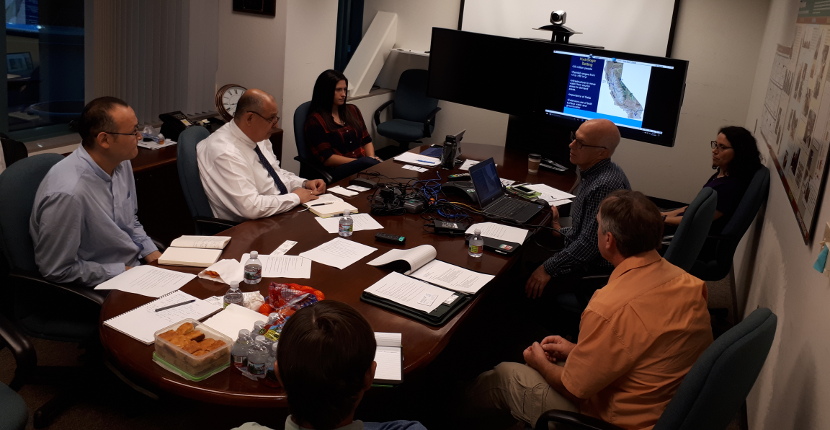 CAREC team drew valuable knowledge from California's experience in managing drought and water caused by climate change. The team introduced the Central Asian region and its work, particularly, on water and climate change. In its turn, USGS-CAWSC gave an overview of its research activities in California. The presentations covered such topics as Modeling of hydrologic processes in the Sacramento-San Joaquin Delta, Wetland sustainability modeling under changing hydrologic conditions, Regional scale approaches to estimating water supply and sediment transport in a changing climate and Drying of the Salton Sea and Planned Restoration Efforts.
CAREC and USGS-CAWSC agreed to discuss cooperation on specific matters further and joints efforts on research activities.
The project is funded by the USAID supported initiative of U.S. National Academy of Sciences (NAS) – Partnerships for Enhanced Engagement in Research (PEER).