Publication date: 30 October 2017


October 28, 2017, Oxford, MS, CA, USA.
As it was mentioned earlier, these days a group of CAREC researchers are traveling to the US to meet a number of US research and academic institutions within the project "Provision of science based evidence on climate induced water quality challenges in Amu Darya basin". This time they met with Dr. Martin Locke (Director), Dr. Ronald Bingner (Watershed Research), Dr. Lindsey Yasarer (Hydrology) and Dr. Roger Kuhnle (Hydraulic Engineering) of the US Department of Agriculture, Agricultural Research Service, National Sedimentation Laboratory (USDA-ARS-NSL).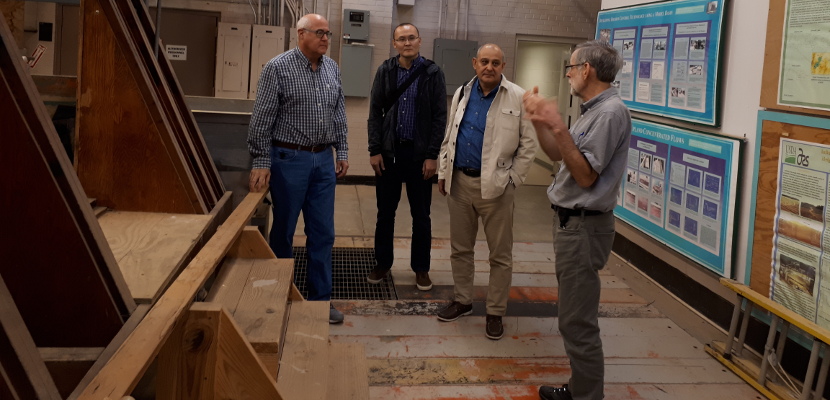 Both sides exchanged on the research activities in the US and Central Asia. USDA-ARS-NSL's research projects on Computational Tools and a Decision Support System for Management of Sediment and Water Quality, Managing Water and Sediment Movement in Agricultural Watersheds and Strategic Investigations to Improve Water Quality and Ecosystem Sustainability in Agricultural Landscapes were discussed. Of particular interest to CAREC researchers was the Agricultural Non-Point Source Pollution Model (AGNPS) system of computer models developed to predict non-point source pollutant loadings within agricultural watersheds. Outputs related to soluble & attached nutrients (nitrogen, phosphorus, & organic carbon) and any number of pesticides are provided.

US and CAREC partners acknowledged the similarities between US and Central Asian water, agricultural and climatic conditions and opportunities to have joint research and exchange of experience in applying modern tools such as SWAT (Soil and Water Assessment Tool) and AGNPS. US colleagues shared their scientific publications. Perspectives of cooperation and follow up activities were deliberated.
The project is funded by the USAID supported initiative of U.S. National Academy of Sciences (NAS) – Partnerships for Enhanced Engagement in Research (PEER).