Publication date: 03 November 2020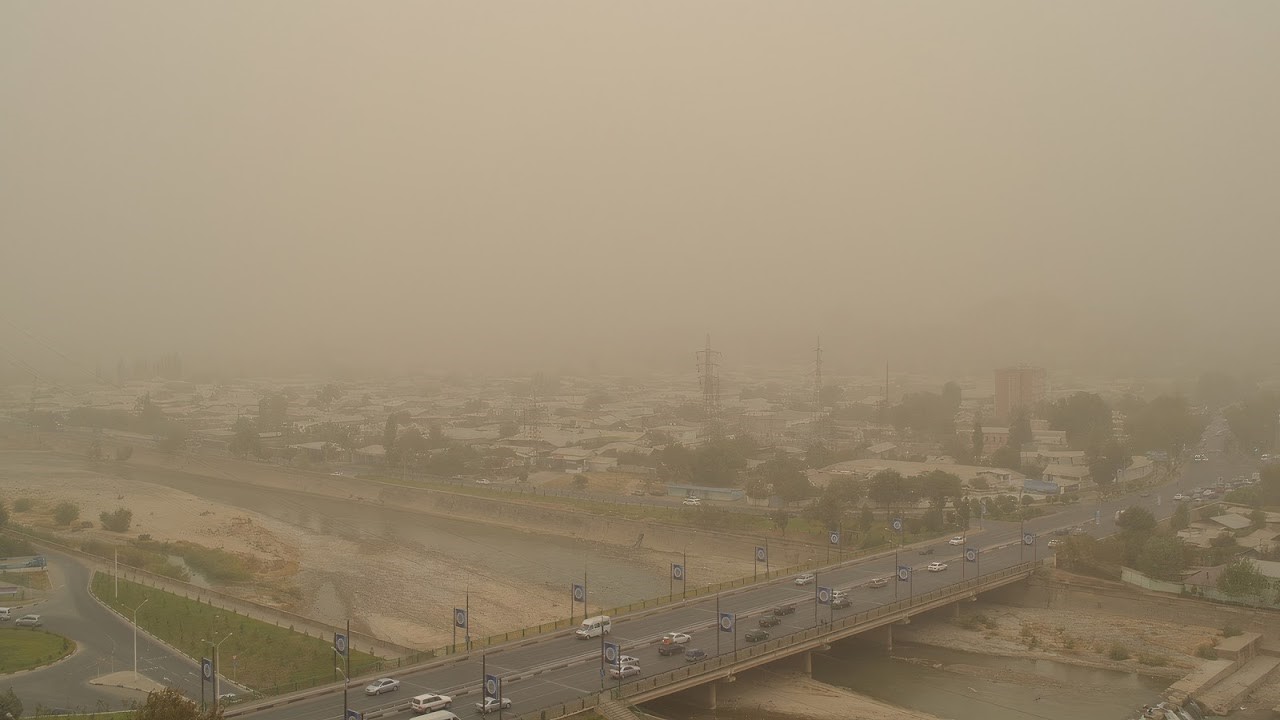 Dust Storm in Dushanbe

Taken from News.tj
#Sandandduststorms #SDS #UNCCD #CAREC #DroughtandSDS #CentralAsia
Sand and dust storms (SDS) occur when winds blow over dry, unconsolidated land where vegetation is sparse or absent with velocity exceeding 1 m/s. SDS lift large amounts of soil particles into the atmosphere, which are then carried hundreds to thousands of kilometres away from their source. SDS occur in different environments provided there are favourable conditions for their generation.
According to the United Nations Convention to Combat Desertification (UNCCD), most SDS originate in low-latitude drylands, which include desiccated lake beds, bare agricultural fields and land cleared for urban development. Often, human influence contributes to the severity of SDS. Activities such as the use of water, intensive livestock grazing and logging may create conditions favourable for SDS.
UNCCD has stated that SDS directly affects 151 country, which are Parties to the United Nations Convention to Combat Desertification (37/COP.13). 45 country Parties are considered SDS source areas. Exhibiting a climate characterized as arid to semi-arid, Central Asia is one of the regions where adverse effects of SDS are most visible.
Strong winds, scarcity of vegetation cover, long and dry summers and frequent droughts are among the factors that are conducive to SDS in Central Asia.
Potential drivers of future SDS in Central Asia include unsustainable land and water use, greater aridity, longer and more frequent droughts.
Recognizing the need to address the negative impact of SDS, the UNCCD Secretariat has decided to provide support to the countries of Central Asia in enhancing their preparedness and resilience to SDS. Dust particles can be transported across international boundaries as some SDS affect areas measured in tens or even hundreds of thousands of square kilometres. It is therefore vital to develop regional approaches to combating SDS.
The UNCCD Secretariat is supporting the governments of Kazakhstan, Kyrgyzstan, Tajikistan, Turkmenistan and Uzbekistan as well as other regional and international stakeholders in developing a comprehensive SDS risk reduction strategy. UNCCD's cooperation with the Regional Environmental Centre for Central Asia (CAREC) facilitates a multi-stakeholder coordination process in dealing with SDS. Government agencies, academia, practitioners and local communities are all invited to cooperate in finding the best possible methodologies and tools to address the negative impact of droughts in the region.
---
Information about the Project:
In January 2020, in all five countries of Central Asia with the financial support of the Secretariat of the United Nations Convention to Combat Desertification (UNCCD) the project "Regional approaches in combating sand and dust storms and drought" was launched. The project is implemented by the Regional Environmental Centre for Central Asia (CAREC), which works in close cooperation with designated national institutions and UNCCD National Focal Points in each of five countries.
Central Asian countries are highly exposed to drought and sand and dust storms (SDS). This problem is especially relevant for areas outside the highlands, where semi-arid and arid climate prevails.
To assist member countries in improving their preparedness and resilience to drought and SDS, the UNCCD Secretariat, in collaboration with a number of partners, has developed mechanisms to promote policies to combat these hazards. The Secretariat has supported countries in developing national plans, methodologies and tools for dealing with these natural events. In particular, a set of drought management measures has been developed, an SDS compendium and a global SDS sources base-map have been compiled.
You can learn more about the Project and its activities here:
− http://carececo.org/main/activity/projects/droughtSDS/
− https://www.unccd.int/conventionregions/regional-approaches-combat-drought-sand-and-dust-storms-central-asia