CAREC participates at SDPI's 18th Sustainable Development Conference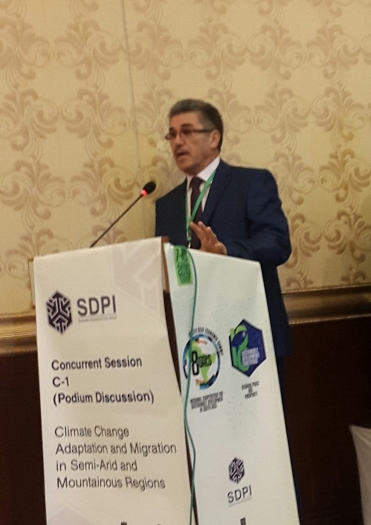 December 9, 2015. Professor Abdulkhamid Kayumov, CAREC Tajik Country Office Director, participated at the 18th Sustainable Development Conference "Securing Peace and Prosperity", which was organized by Sustainable Development Policy Institute (SDPI) and held on 7-10 of December 2015 in Islamabad, Pakistan. Prof. Kayumov spoke about "Role of migration, remittances and climate resilience in Tajikistan: Existing tendencies and perspectives", and highlighted the progress of Tajikistan in research dedicated tomigration, remittances and climate resilience in arid and semi-arid regions of Senegal and Tajikistan.
The research is implemented in the frameworks of the Pathways to Resilience in Semi-Arid Economies (PRISE) initiative. The presentation touched the ground of existing tendencies of labor migration and remittances and in particular highlighted its linkage to adaptation practices in times of climate change in Tajikistan. One of the research partners is SDPI, which promotes the implementation of policies, programs, laws and regulations based on sustainable development principles.