Publication date: 22 June 2017
Blue Peace Central Asia: focus on water management issues in the region
June 18-20, 2017, the Swiss Agency for Development and Cooperation (SDC) organized a conference on transboundary water management in Astana (Kazakhstan). Delegations of the five Central Asian countries, representatives of international environmental organizations including CAREC attended the conference. Heads of foreign ministries of Kazakhstan and Switzerland made a speech at the opening.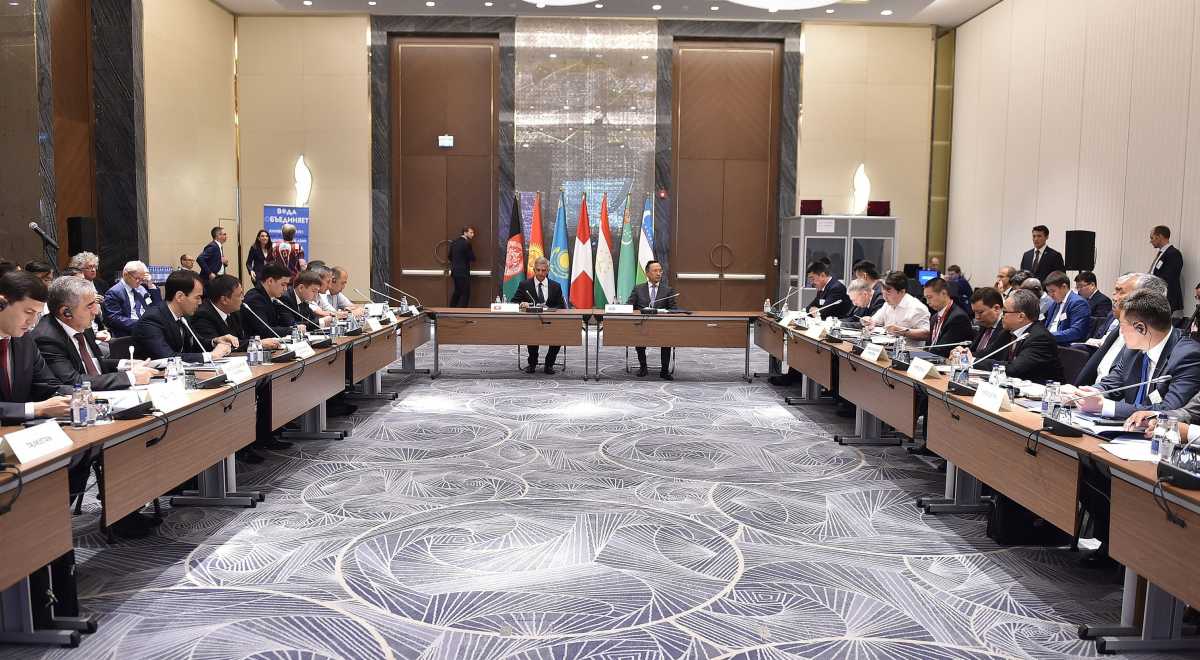 Minister of Foreign Affairs of Kazakhstan, Mr Abdrakhmanov, stated that Central Asia presents a united front against many problems of the region and the entire world. "We observe positive dynamics in the dialogue development in the region on water resources challenges and welcome Switzerland joining this process as it has an extensive experience in this issue," he added. He also noted a high level of political and economic partnership between the two countries and stressed that Switzerland is one of the major trade and investment partners of Kazakhstan, bilateral trade turnover accounted for 2.8 billion USD in 2016.
In this context, Mr Didier Burkhalter appreciated the role of Kazakhstan at the international arena, noting that Switzerland is ready for active cooperation on a wide range of regional issues including sustainable use of water resources in Central Asia. Burkhalter pointed out that headwaters of many European rivers begin in Switzerland and expressed readiness of the country to share the experience with countries of Central Asia on issues related to increasing the quality of water management.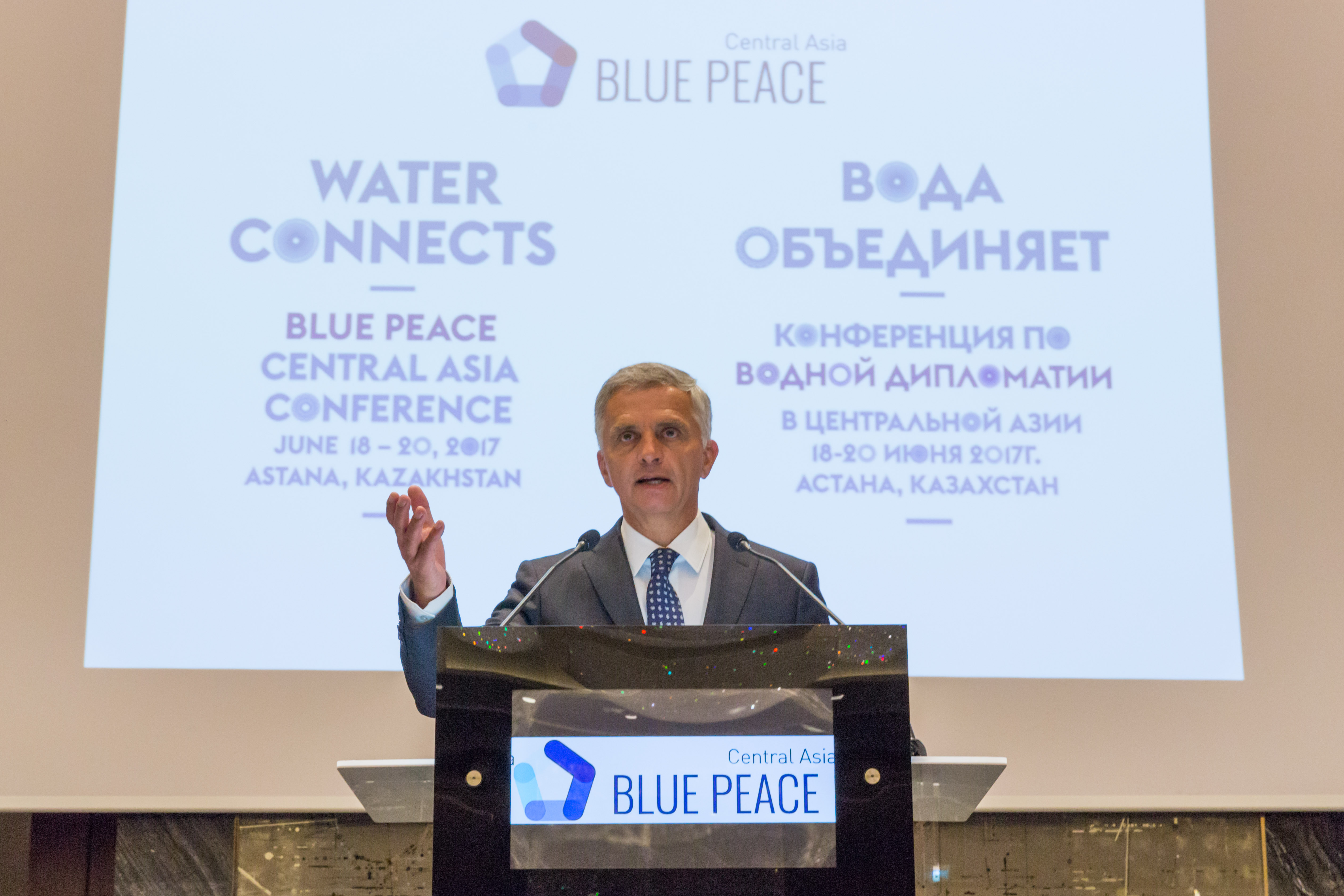 ___________
"We intend to analyses the process, intensify a political dialogue and assist in addressing water issues in the region," stressed the Swiss Foreign Minister.
Further discussions consisted of four modules, while which participants observed the issues of water resources management risks, building resilience, education and financing tools. In the framework of "Managing Water under Uncertainty and Risks" module, Dr Iskandar Abdullaev, Executive Director of CAREC, and Dr. Benjamin Pohl, a Senior Project Manager at adelphi, gave a speech on the costs of inaction and benefits of water cooperation in Central Asia.
It was stated that limited cooperation in transboundary water management will result in significant costs for all basin countries. The costs of insufficient cooperation are already significant today and risk rising further in the future. Due to deteriorating infrastructure, environmental degradation and demographic and economic pressures, these costs will inevitably increase if water management remains as it currently is.
In seeking to strengthen water cooperation in the service of all countries, Central Asia can build on three important assets and developments. First, the region is home to numerous existing cooperation frameworks at different levels whose functioning can be enhanced. Second, the new 'redundant' infrastructure has reduced dependencies and has thereby removed or mitigated potential 'flashpoints' of political conflict. Third, the intensified political dialogue between neighbours during the past year creates new potential for reinforced cooperation.
In a conclusion, there were several suggestions: to focus on uncontested issues that provide complementary benefits to actors, to embrace a pragmatic sub-basin approach, and to pursue a poly-centric approach to cooperation but ensure consistency with regional approach.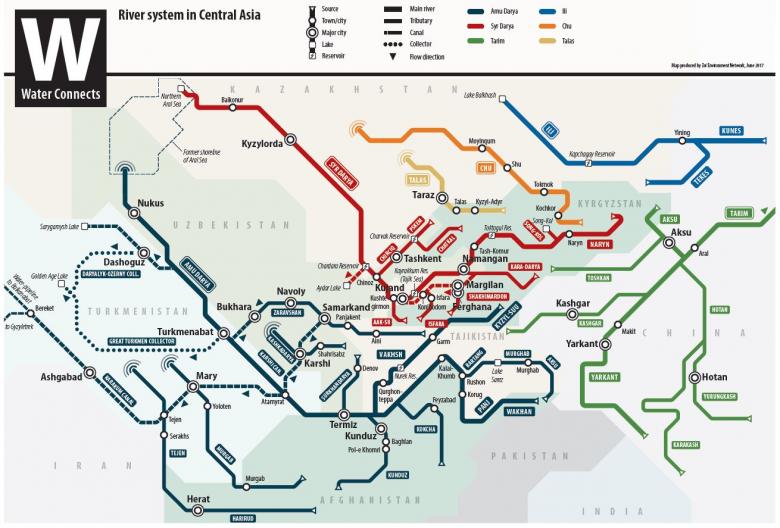 Background
With the "Blue Peace Central Asia" initiative, Switzerland wants to spur Kyrgyzstan, Tajikistan, Uzbekistan, Kazakhstan and Turkmenistan into political dialogue on water management and water security. Also foreseen is the exchange of technical data and the promotion of education of young people who are interested in water management.