Publication date: 31 October 2017
CAREC in partnership with Ecological Movement of Uzbekistan organized round table on

issues of solid domestic wastes
On October 23-24, 2017 a round table on "Modern technologies in the management of solid domestic wastes: legal, technical and investment solutions" was held in Tashkent in International Business Center. The event was organized by The Committee on the issues of Ecology and Environmental Protection, parliamentary group of Ecomovement of Oliy Majlis Legislative Chamber and Ecological Movement of Uzbekistan in partnership with Regional Environmental Centre for Central Asia (CAREC) as well as "Toshrangmetalzavod" JSC, and Organization for Security and Co-operation in Europe (OSCE) Project Coordinator.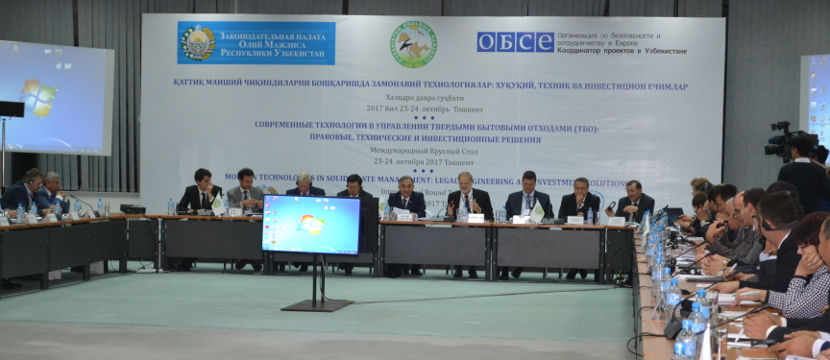 The aim of international round table was to widely discuss the legal, technical and investment decisions in Uzbekistan in the field of solid waste management, practical measures to address the problems of rational use of natural resources in order to reduce the loss of raw materials and the maximum utilization of solid waste, with their further use as secondary raw materials.
The international round table was opened with remarks and presentations by the Chairman of State Committee of the Republic of Uzbekistan on Ecology and Environmental Protection Mr. Bakhrom Kuchkarov, the head of Ecomovement parliamentary group and Chairman of the Committee on Ecology and Environmental of the Legislative Chamber Mr. Boriy Alikhanov, OSCE Project Co-ordinator in Uzbekistan Ambassador John MacGregor, and representative of diplomatic corps.
The event was attended by foreign experts from Russia, Belarus, Latvia, Italy, Great Britain, Kazakhstan and other countries, including the experts from CAREC, OSCE, the members of Legislative Chamber, specialists from the Ministry of Health and State Committee on Ecology and Environmental Protection, scholars of scientific and educational institutions, specialists of Ecomovement, representatives of public and international organizations, journalists.
Participants discussed the legal experience of foreign countries in solving the issues of ensuring efficient use of natural resources by improving the waste management system, improving the system of state regulation, including adopted in 2017 Presidential Decree "On improving the system of public administration in the sphere of ecology and environmental protection", as well as introducing modern technologies in solid waste management. During the event, they also noted that existing problems in the sphere of domestic wastes management in worldwide require an urgent decision. The formation of knowledge of the population, especially among young people, and skills in proper management of domestic waste is quite important in this case.
Experts and NGO representatives noted during discussions the relevance and importance of sharing practical experience in the use of modern technologies in management of solid domestic waste.