Publication date: 05 December 2017
Almaty hosted
the Regional Conference on the Berlin Process
On April 1, 2008, at the water conference "Water Unites" in Berlin, the German Foreign Ministry announced a launch of the Water Initiative for Central Asia. This initiative is a proposal of the German government to countries of Central Asia to assist in water resources management and making the water a subject of enhanced transboundary cooperation. The priority task is to initialize a process of political rapprochement in Central Asia that could promote strengthening cooperation in using water as a limited resource and in the long term could lead to the joint management of water and energy resources.
___________
The most extensive component of the Berlin Process is the «Deutsche Gesellschaft für Internationale Zusammenarbeit (GIZ) GmbH» programme «Transboundary water resources management in Central Asia » (GIZ programme TWRM CA) under the authority of the German Foreign Ministry.
GIZ is implementing measures to foster cooperation in the Central Asian water sector and to improve the lives of people in the region, closely collaborating with national, regional and international partners such as the United Nations Economic Commission for Europe and the Regional Environmental Centre for Central Asia (CAREC).
CAREC under the GIZ programme TWM CA implements projects at the regional, national, basin level, in strengthening regional cooperation on integrated water resources management, river basin planning and capacity building of the water sector professionals in Central Asia.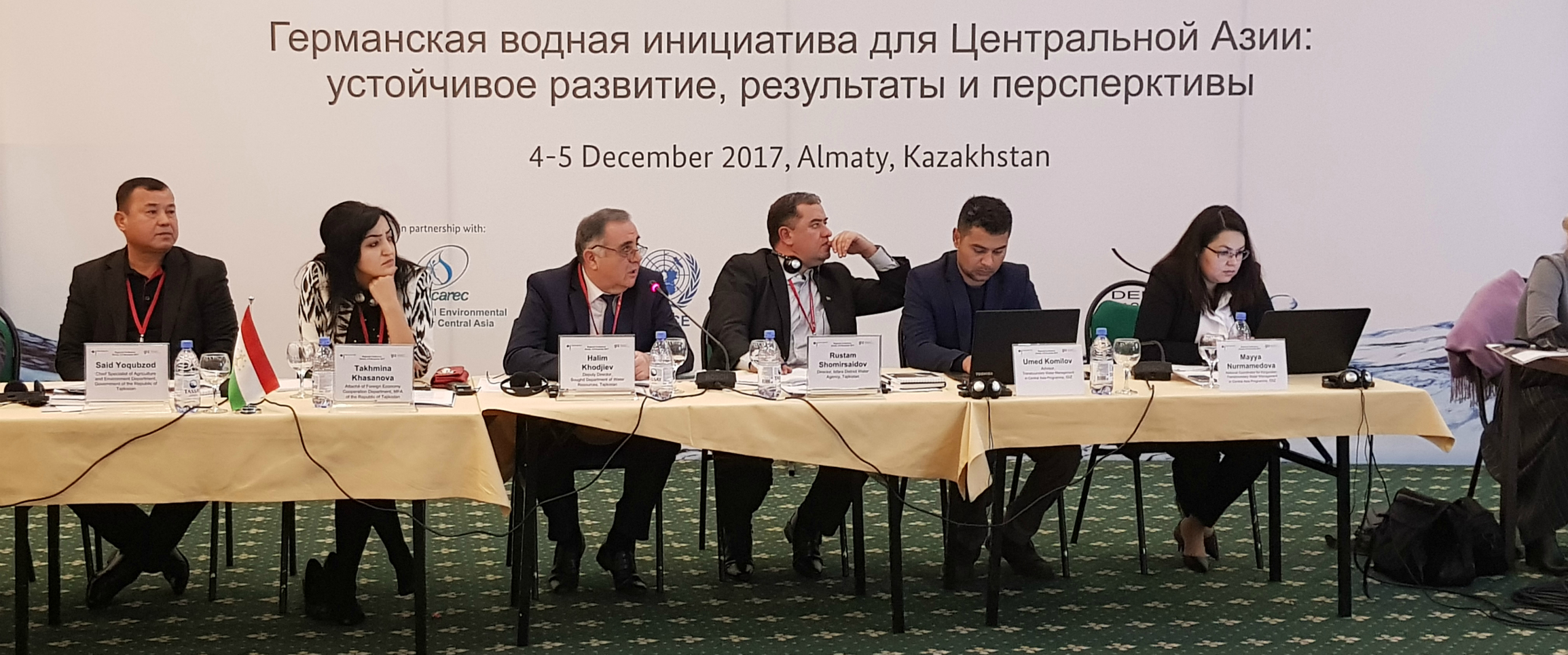 ___________
On December 4-5, Almaty hosted a regional conference on the Berlin process.
The conference was held within the framework of the implementation of the third phase of the GIZ TWM program. It was attended by representatives of ministries and departments responsible for water issues and international cooperation, heads of programs and projects of international organizations active in the field of water resources management and development of regional cooperation, as well as representatives of the German Foreign Ministry. CAREC at the conference was presented by the Executive Director Dr. Iskandar Abdullaev and specialist of the Water Initiatives Support Program Mr. Said Sharipov.
Dr. Iskandar Abdullaev in his speech entitled "Transboundary Water Management in Central Asia Programme: CAREC's role and involvement" shared the results achieved within the framework of cooperation with the GIZ programme: strengthening of CAREC's potential as a regional platform for knowledge and communication exchange in the field of water resources management; as well as the results of improving the terms of long-term cooperation and strengthening cooperation between regional, national and basin organizations.
Mr. Said Sharipov in his presentation "CAREC's role as capacity building and information hub in Central Asia" shared the results achieved on dissemination of the accumulated experience within the three phases of the GIZ programme TWM CA on integrated water resource management and basin planning along with developed tools for capacity building on the basis of the Eurasian River Basin Portal.