Publication date: 04 May 2016
Provision of irrigation water during vegetation period in the Isfara river basin
Transboundary Isfara River supplies water to the territories of the Tajikistan and the Kyrgyzstan. Lack of water during the vegetation period – from April to September often causes great yield losses. In this context, the achievement of agreements between neighboring countries becomes paramount issue.
According to the agreement between the head of the State administration on land reclamation and irrigation Shomirsaidov Rustam from the Tajik part and the head of the Batken district water management organization Irmatov Sultan from the Kyrgyz part, dated on 18 January 2016, signed in Batken-Isfara cities, the parties exchanged views and reached number of decisions on providing irrigation water during vegetation period on transboundary river Isfara. In order to implement this agreement representatives of the border villages: Shomirsaidov R. from the Tajik side and Irmatov S. from the Kyrgyz part signed agreement on water distribution of the irrigation canal "Chilgazi" on 26 March, 2016.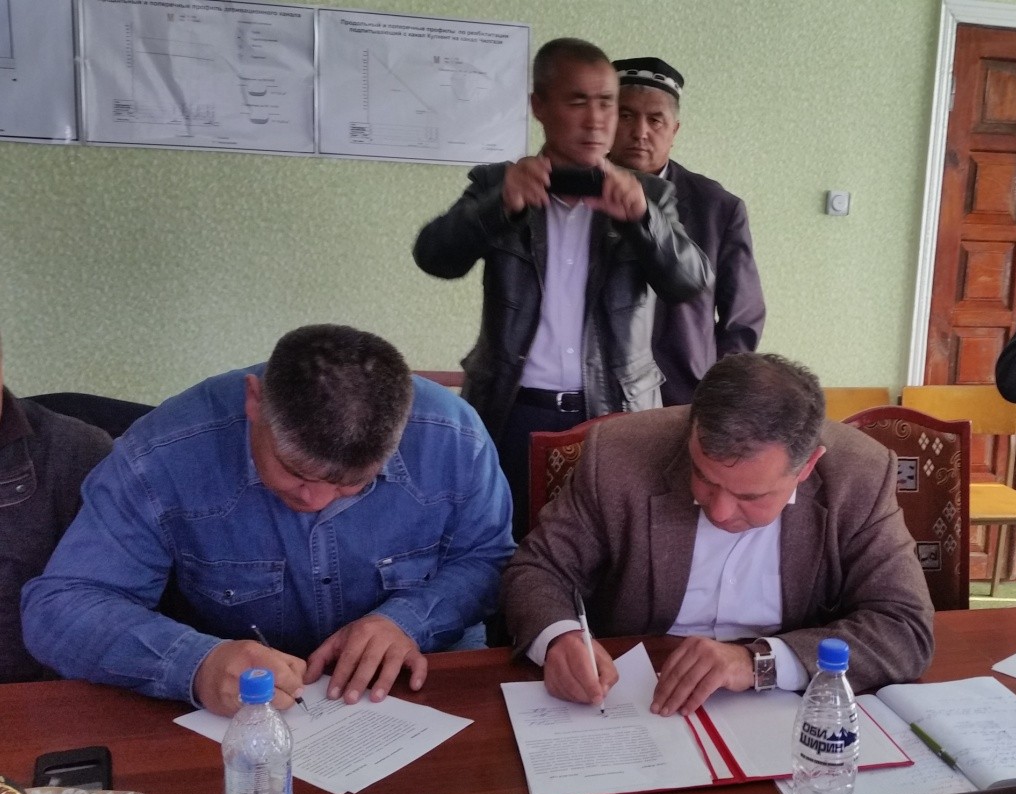 Photo: Signing of the agreement
The parties reached the following agreements: to appoint Mirab (person, responsible for the water distribution and supply) among citizens of the Kyrgyz village Karabog during vegetation period for supplying water from the territory of Kara Batksk ayil okmotu of the Kyrgyz Republic to Jamoat Lyakkan in the Republic of Tajikistan. The main task of Mirab is to distribute the water from gauging station on the territory of Kara-Batksk. The percentage of water distribution will be such that much of the water, precisely, 80% is to be allocated to tajik side and the remaining 20% to the kyrgyz side.
According to the information from Rustam Shomirsaidov, now sides are friendly negotiating on finding solution regarding the water distribution in channel Dusti between residents of tajik village Somoniyon and kyrgyz village Kok-Tash.