Publication date: 26 July 2018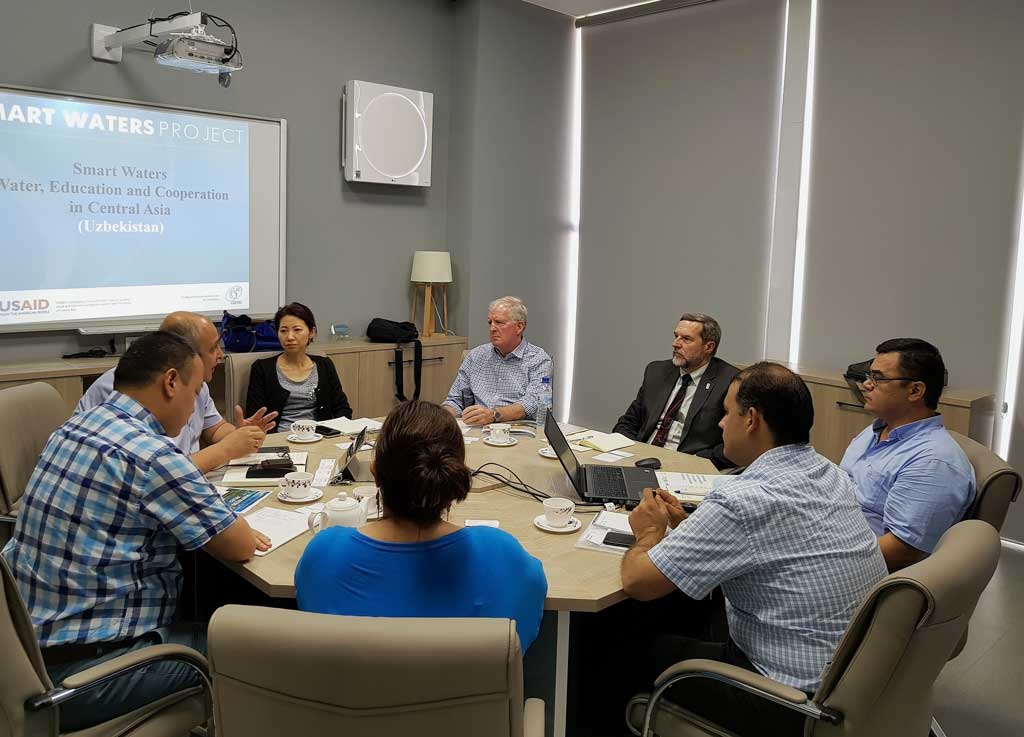 July 24, Tashkent. A high-level meeting was held at the Innovations and Scientific Research Cluster of CAREC-TIIAME with participation of the representatives of the Regional Environmental Centre for Central Asia, the International Water Management Institute (IWMI) and USAID. During the meeting, the participants discussed the progress, results and further plans of several regional projects of CAREC and IWMI, funded by USAID.
USAID mission was headed by Regional Mission Director Central Asia Mr. Christopher Edwards, Director of Office of South and Central Asian Affairs Ms. Kyung Choe, as well as USAID Central Asia office Director in Uzbekistan Mr. Gary Robbins and Project Management Specialist in Uzbekistan office Mr. Bahtiyor Mirzabaev. CAREC was represented by Executive Director Mr. Iskandar Abdullaev, Director of Uzbekistan Branch Ms. Shakhnoza Umarova, project managers and specialists Mr. Jusipbek Kazbekov and Ilkhom Nazarov.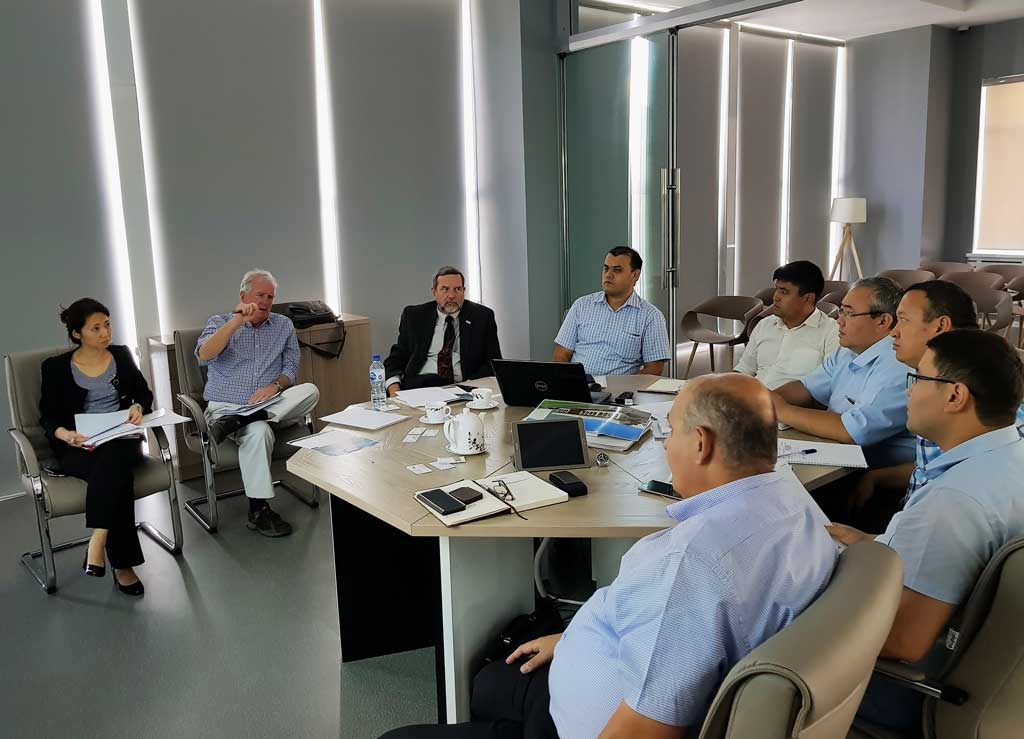 During the first part of the meeting, CAREC team retold in details the concept, goals and objectives of the Smart Waters project at the regional level. The specialists presented the activities of the project in Uzbekistan, the conducted and planned activities, current results. In addition, CAREC and USAID discussed the existing cooperation between Central Asian countries, as well as the relations of countries in the management of transboundary water resources.
USAID mission was also interested in those changes taking place in the state policies in Central Asia with the help of Smart Waters project, including the contribution of CAREC to the strengthening the dialogue between them. In conclusion of this meeting, the parties discussed possibilities of CAREC participation in future USAID initiatives on water resources management on national and regional levels.
Then, IWMI representatives joined the meeting to talk about the projects within PEER initiative. CAREC presented interim results, implementation process and planned activities of "Provision of science-based evidence on climate induced water quality challenges in Amu Darya basin" project (Cycle 5).
IWMI representatives, in their turn, talked about three ongoing projects, such as "Mitigating the competition for water in Amudarya River basin, Central Asia, by improving water use efficiency" (Cycle 4), "Implications of climate change, land use, and adaptation interventions on water resources and agricultural production in the transboundary Amu Darya River Basin" (Cycle 5), and "Reducing water pollution and carbon emissions from irrigated areas by improving irrigation management and rural livelihoods: case studies from energy intensive pump irrigated areas of Sogd Province, Tajikistan, and Kashkadarya Province, Uzbekistan" (Cycle 6).
Together CAREC and IWMI noted that they jointly coordinate and share data collection, exchange information and modeling efforts instead of duplicating. This innovative partnership model, working jointly to achieve overall impact of PEER research, meanwhile being specific on the objectives of the research by each partner, is the vital in the context of the science cooperation in Central Asia and already is yielding good fruits. Partners also shared with the mission their achievements, expected outcomes and upcoming events.
проектов, ожидаемых результатах и ближайших планах.