Publication date: 14 September 2020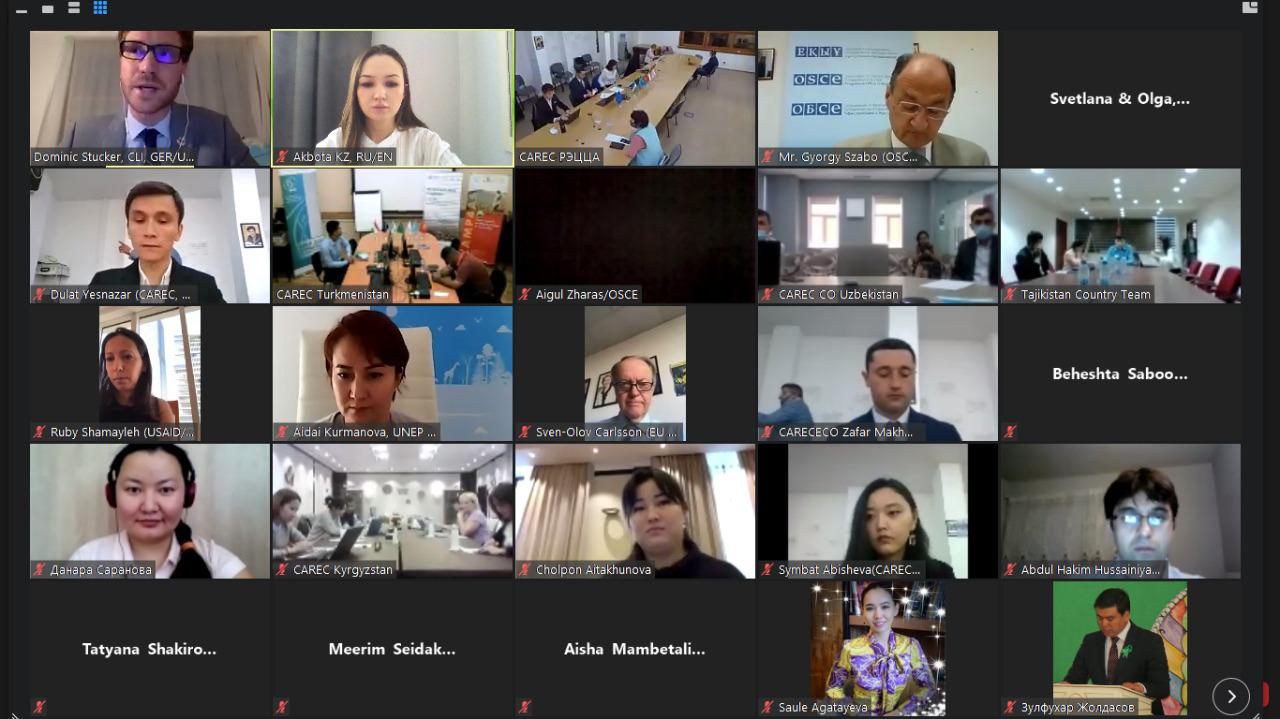 The 11th CALP Opening Ceremony, organized as an input to the "Year of Volunteers in Kazakhstan", was held on Monday, September 14 as a virtual event due to the COVID-19 pandemic.
The Central Asian Leadership Programme 2020 is hosted by the Regional Environmental Centre for Central Asia (CAREC) in cooperation with UN Environment Programme and with financial support of OSCE Programme Office in Nur-Sultan, US Agency for International Development (USAID), World Bank, European Union and OSCE Secretariat in Vienna.
The opening ceremony was attended by Mr. Zafar Makhmudov, Executive Director, CAREC; Mr. Zulfukhar Zholdasov, Chairman of the Committee for Environmental Regulation and Control of the Ministry of Ecology, Geology and Natural Resources of the Republic of Kazakhstan, Chairman of CAREC Board of Governors; Mr. György Szabó, Ambassador, Head of the OSCE Programme Office in Nur-Sultan; H.E. Sven-Olov Carlsson, Ambassador of the European Union to Kazakhstan; Ms. Aidai Kurmanova, Head of the United Nations Environment Programme (UNEP) for Central Asia Office; Ms. Rabab Shamayleh, Environment and Natural Resources Specialist in the Economic Development Office (USAID/Central Asia); and Mr. John Bryant Collier, Senior Environmental Specialist (World Bank Central Asia Regional Office).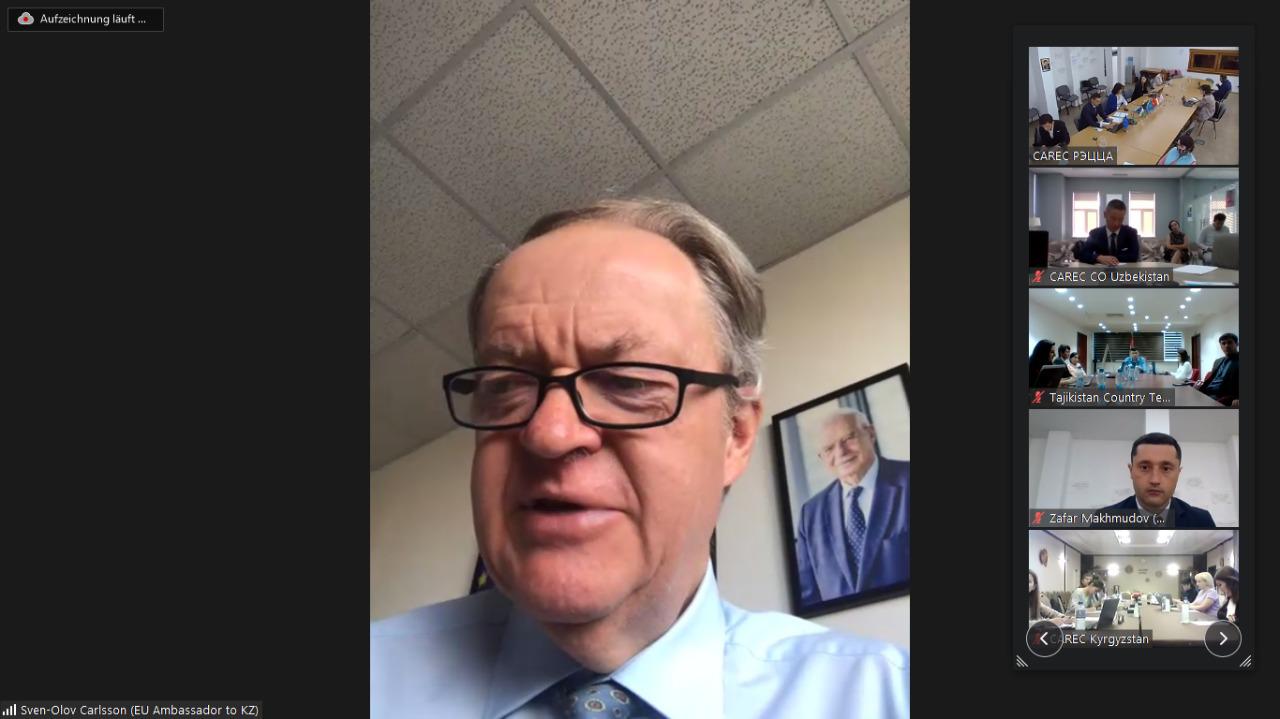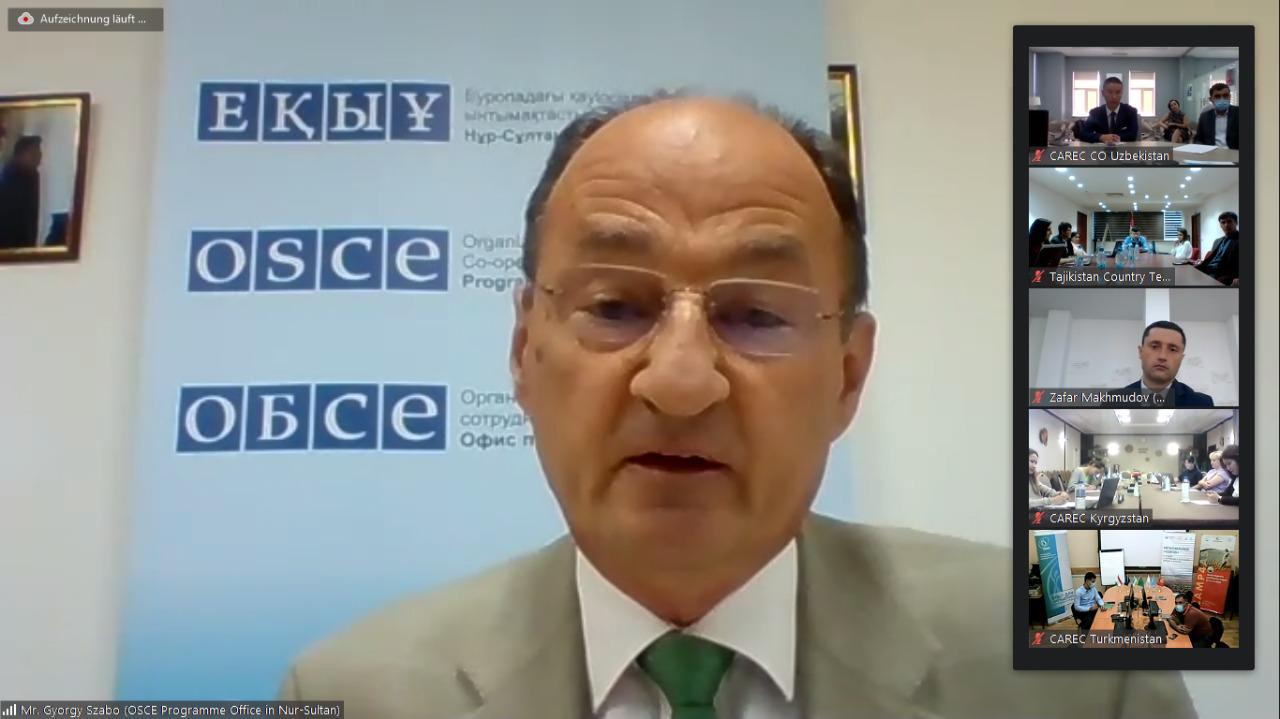 The agenda included issues related to the implementation of the Sustainable Development Goals (SDGs) in the context of and as a contribution to a robust COVID-19 recovery in the fields of environment, society, and/or economy, as well as the role of youth volunteering and leadership in Central Asia in responding to the global challenges and opportunities.
As noted by Ambassador of the European Union to Kazakhstan Mr. Sven-Olov Karlsson in his welcoming speech: «The COVID-19 pandemic has shown very well that we must change our relationship with nature and join efforts to switch to the green path to create a healthy, more resilient and sustainable future for our Planet, ourselves and our future generations. There is a need to rethink our economic policies to make the transition to green economy faster and more efficient».
In addition, he stated that EU cooperation with Central Asia is based on the EU's new geopolitical priorities set out along five pillars: Green Deals, Digitalisation, Sustainable Growth and Jobs, Migration Partnerships, and Governance, Peace and Security.
This year, the Leadership Program brought together about 46 participants – representatives of government, academic and civil society from 5 Central Asian countries and Afghanistan to engage in addressing environmental challenges in the context of sustainable development.
The main objectives of the 11th CALP are to build collective leadership capacity, strengthen environmental volunteering, as well as to demonstrate the advantages of the regional network of the CALP alumni as a platform for youth dialogue.
As noted by the Head of the United Nations Environment Programme (UNEP) for Central Asia Office Ms. Aidai Kurmanova: "Our next generation of young leaders will set the agenda for the future of mankind. Young people have a very powerful tool - their voices, influence and network."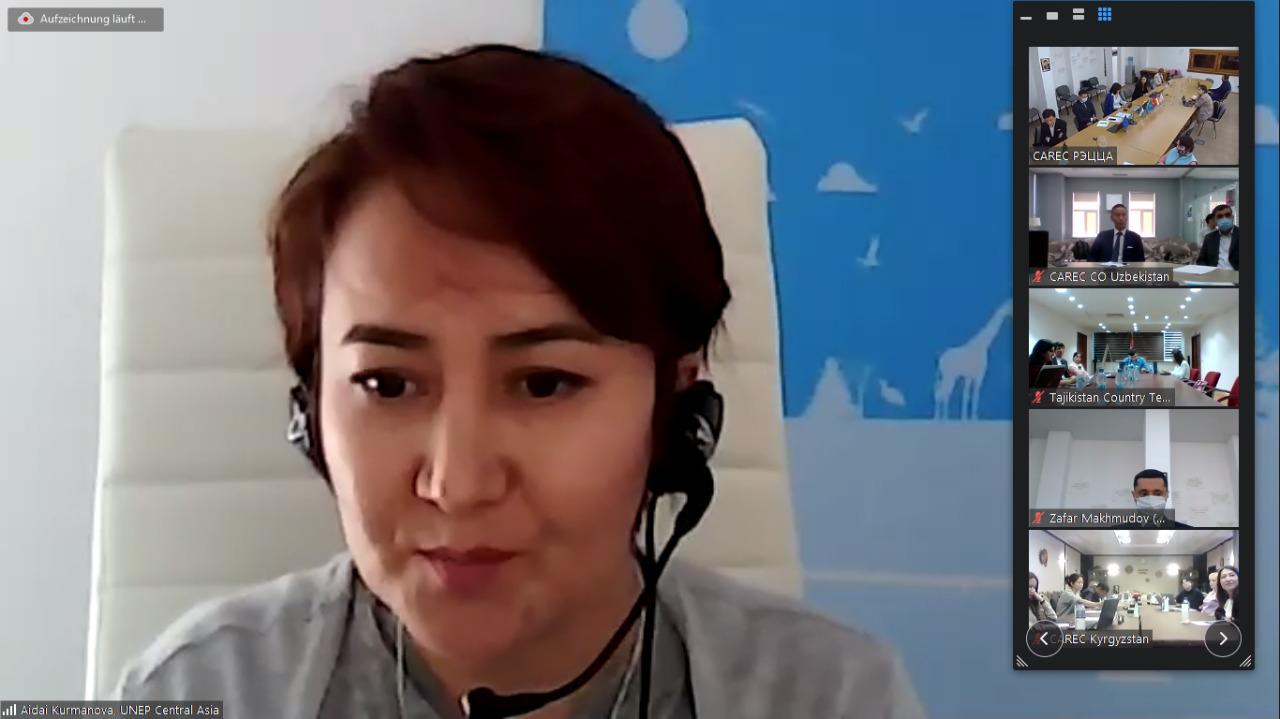 To that end, UNEP launched The Youth and Education Alliance (YEA!)in 2019, which works with both higher education and youth networks from around the world to increase environmental awareness and education among students and young people to accelerate the environmental changes that urgently need to be made in this decade. The goal is to integrate sustainability and environmental best practices into their curricula, civics and across their campuses while also raising the profile of higher education as change agents.