Publication date: 12 June 2018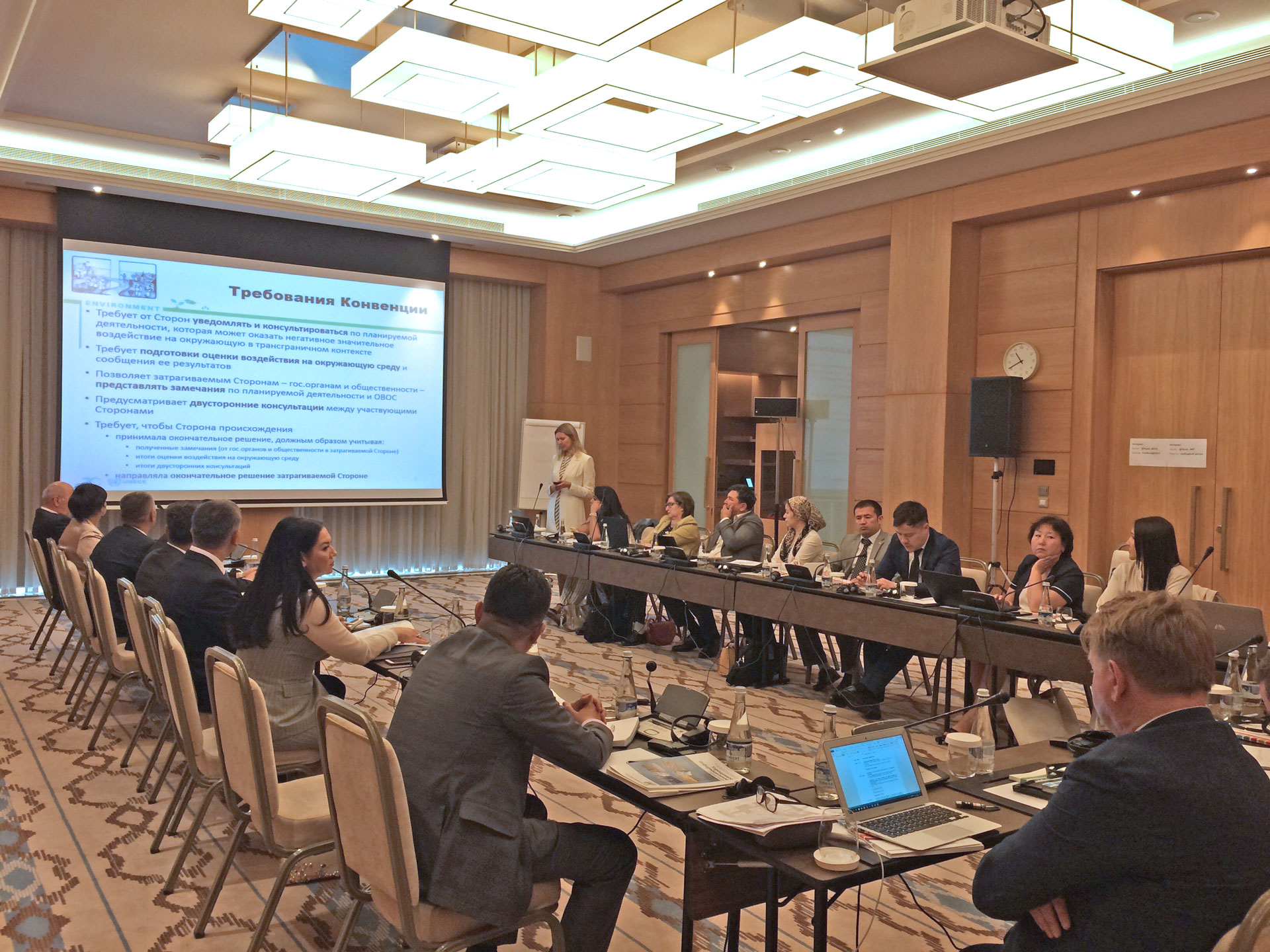 Representatives of the governmental and regional structures of the Central Asian countries, involved in the process of environmental impact assessment, have met on July 4 in Tashkent. 30 people have participated in the event. Parties discussed the issues of application of the transboundary environmental impact assessment procedure as a tool of economy "greening" and attracting sustainable investments in the region.
The updating of the Environmental Impact Assessment (EIA) Guidelines in a Transboundary Context for the Central Asian countries have been started in 2017. This work is being conducted within the project implemented by CAREC with the support of the Secretariat of the Espoo Convention on EIA in a Transboundary Context (UNECE), and funded by the Swiss Federal Office for the Environment. Despite the fact that the Parties to the Espoo Convention are Kazakhstan and Kyrgyzstan alone, the Project has covered all countries of the region.
Draft of the updated EIA Guidelines has been developed and presented as a result of the expert work and discussions. The presentation took place on May 28-30, 2018, at the Meeting of the Working group of the Convention on EIA and SEA in Geneva. The potential for the application of the transboundary EIA tool in the context of large infrastructure projects is rather high; in particular, for the development of efficient measures for the reduction of the negative environmental impacts.
At present, carrying out an environmental assessment of the scheduled activities, including transboundary consultations with the governments and public at large of the potentially affected countries, is mandatory according to the enforceable international law. "To fulfil this obligation the countries should have an effective national environmental assessment system and a legal framework, which specifies the details, related to the transboundary consultations. For the countries, which are the Parties to the Espoo Convention, such information is contained in the Convention. For the Central Asian countries, the only two countries of which are the Parties to the Convention, such details are specified in the updated Guidelines for Environmental Impact Assessment in a Transboundary Context for the Countries of Central Asia", says Professor Jérzi Jendroška, specializing in the EIA international aspects for more than 30 years.
During the discussions, the participants of the meeting have marked the similarity of the EIA methodologies at the national level. Also, parties discussed the application of the norms and rules in relation to different sectors of the economy, the transboundary impact criteria and community involvement. The organization of public hearings on the transboundary objects should be considered also in synergy with the commitments under the UNECE Aarhus Convention, where Kazakhstan and Turkmenistan are the Parties. Thus, the tools, proposed by the UNECE Transboundary Conventions on air pollution, water resources, industrial accidents and public access to the information represent an effective platform for cooperation and search for mutually acceptable tradeoffs. And the United Nations Economic Commission for Europe is ready to provide all necessary support to the Central Asian countries for increasing their potential.
For more information, please, contact:
Sarangoo Radnaaragchaa, Regional Adviser for Environmental Protection, UNECE, Sarangoo.Radnaaragchaa@unece.org
Elena Santer, the Secretariat for the Espoo Convention and SEA Protocol, Elena.Santer@unece.org
Lyudmila Kiktenko, Manager of the Environmental Management Program, CAREC, lkiktenko@carececo.org