Publication date: 26 July 2021
The Ramsar Regional Initiative for Central Asia (RRI-CA), funded by the Ramsar Secretariat, held its anniversary meeting on 23 July 2021 online in conjunction with COVID-19. The anniversary event was attended by 55 participants - nominated members of the CC (Coordination Committee) of RRI-CA from Kazakhstan, Kyrgyzstan, Tajikistan, Turkmenistan, Uzbekistan, including national focal points of the countries, Mr. Beom-Sik Yoo - Senior Advisor for Asia and Oceania of the Ramsar Secretariat, media representatives, bird watchers, ministry representatives from Central Asian countries and local communities, representatives from CAREC.
The event was a jubilee event for several reasons - the fifth anniversary of RRI-CA and the 50th anniversary of the Ramsar Convention.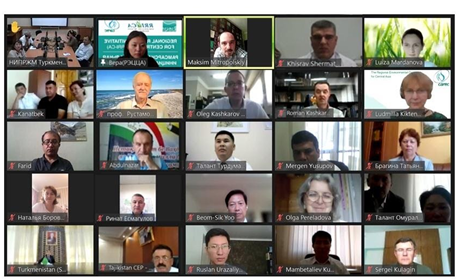 Mr. Jumamurad Saparmuradov, Head of the Department of Environment and Hydrometeorology of the Ministry of Agriculture and Environmental Protection of Turkmenistan, noted that over the past 5 years from 2016 to 2020 the CC of RRI-CA under the leadership of Mr. Eldar Rustamov, has done a great job on inventorying wetlands in Central Asia, updating information and work with local population, strengthening interaction with other regional international organizations.
Mr. Abdulkodir Mavlododod, Deputy Chairman of the Committee on Environmental Protection under the Government of the Republic of Tajikistan, expressed confidence that this event will give a new impetus and allow to form effective solutions for wetlands conservation, thereby contributing to achieving the goals of the Convention at national and regional levels.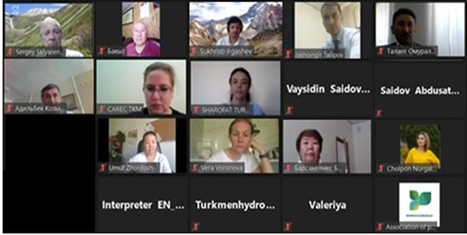 This event consisted of 4 sessions - 1. Congratulations of Tajikistan for joining RRI-CA in 2021 and presentation on wetlands and ecosystems of Tajikistan, 2. Presentations of the countries (Kazakhstan, Kyrgyzstan, Uzbekistan, Turkmenistan) on the results of RRI-CA activities during 2016-2020, also there was a Q&A session between the guests and presenters. 3. The results of RRI-CA 2016-2020, 4. Development Strategy of RRI-CA 2021-2024.
A lot of work has been done from 2016 to 2020 and there is a lot of work ahead on implementation of the new RRI-CA development strategy for the period from 2021 to 2024.
For more information, please contact:
Lyudmila Kiktenko, EEO Program Manager, lkiktenko@carececo.org
Maxim Mitropolsky, Chairman of CC RR-CA, max_raptors@list.ru
The project is funded by the Ramsar Convention Secretariat