Publication date: 04 May 2021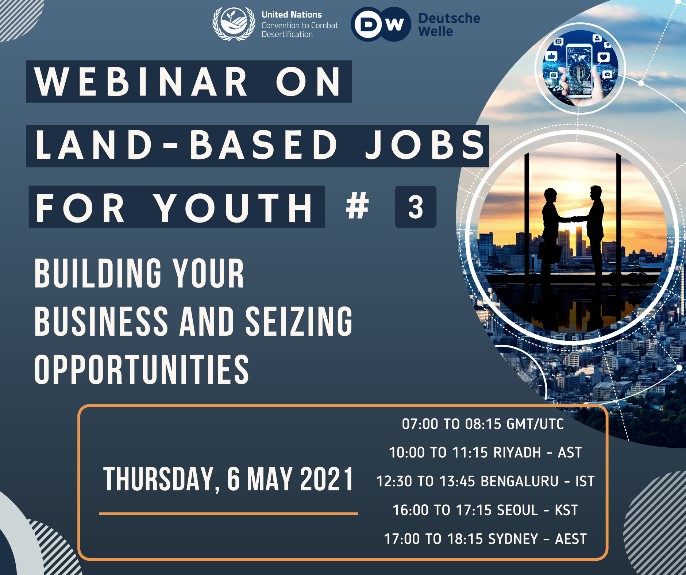 The world has undergone many changes in recent years. Numerous professionals have to develop new skills, look for additional sources of income and discover new areas of activity. Despite the difficulties, young people today have endless opportunities. Learning to use these opportunities is a critical task.
Are you motivated and full of ambitions and ideas but can't find a job that suits your interests? Are you interested in creating jobs but don't know where to start? Are you afraid of failing because of a lack of finance, connections, a winning idea, or the mentors you need to get the job done? Do you dream of combining business with fun?
If you can relate to this, then come and listen to people who have overcome their fears and launched successful projects. Find out how top professionals reach new heights and deal with setbacks. Ask them all your questions.
The webinar – the third in a series of events organized by the UNCCD in collaboration with Deutsche Welle – is aimed at young people aged 15 to 35 who want to create sustainable land-use jobs.
When: May 6, 14.00 Almaty time
Where: online, on the Zoom platform
Speakers:
Ms Tina Birmpili - UNCCD Deputy Executive Secretary
Mr. Shamik Chakravarty - Founder and CEO of Farmizen
Mr. Min-Cheol Jeong - Founder and Director of Tree Planet
Webinar language: interpretation is available in English, Arabic, Chinese and Russian
You can register for the webinar by using the following link:
https://unccd-int.zoom.us/webinar/register/WN_XityMiJWT8GD_TgFuqqAGQ