Publication date: 31 October 2019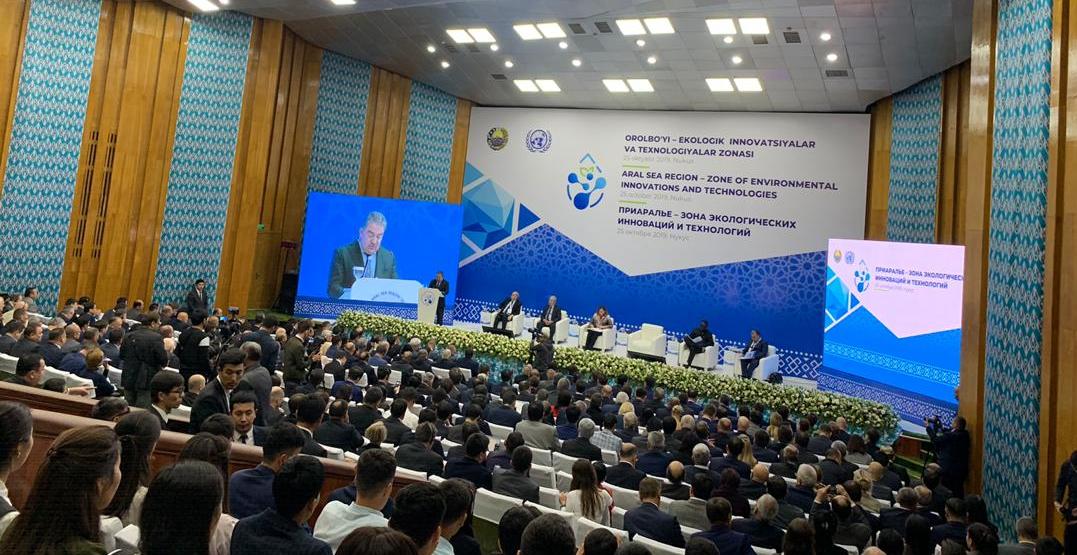 On October 24-25, 2019, CAREC Executive Director Mr. Zafar Makhmudov attended the meeting of the International Commission on Sustainable Development of the International Fund for Saving the Aral Sea (ICSD IFAS) and the International High-Level Conference on the Development of Environmental Innovations and Technologies in the Aral Sea region. Both events took place in Nukus, Uzbekistan with the participation of the Ministers of Ecology of Uzbekistan and Turkmenistan, representatives of government and state bodies from Central Asian countries, expert and international community.
In his opening speech, Mr. Makhmudov emphasized CAREC's contribution to achieving the priorities of the Regional Environmental Program for the Sustainable Development of Central Asia through program and project initiatives. CAREC cooperates with ICSD through the use of regional dialogue platforms (Central Asian International Environmental Forum, Central Asian Conference on Climate Change) for a joint and coordinated solution of environmental issues in Central Asia. Mr. Makhmudov also emphasized the role of donors and development partners and expressed appreciation for their comprehensive support of CAREC in this process.
During the high-level international conference on the development of environmental innovations and technologies in the Aral Sea region, the participants attended the exhibition banner stands on the consequences of the Aral Sea crisis and possible investment projects for the development of the region. During the plenary and parallel sessions of the conference, participants discussed opportunities to attract foreign investments to environmentally friendly technologies, introducing the principles of green economy that ensures food security, developing eco-tourism, etc. CAREC Executive Director also made a speech at the session on "Establishing conditions for attracting foreign investment in the development and implementation of environmentally friendly technologies", where he presented investment ideas for the NEXUS projects to address environmental issues in the Aral Sea basin.
The conference adopted the outcome document which contain the main principles and directions for further cooperation to improve the environmental situation in the Aral Sea region.