01.04.2019
Supported by: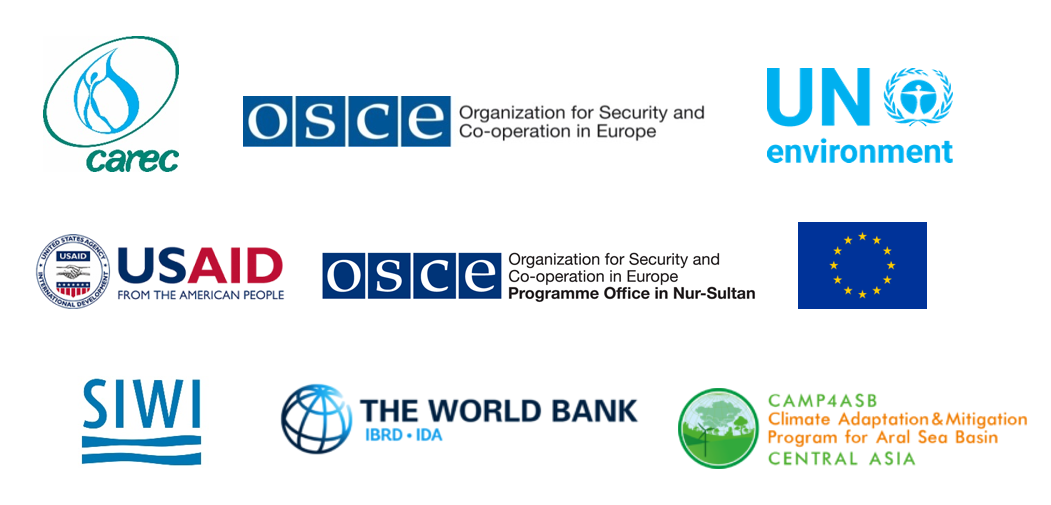 Thank you for your interest in participation in the 10th Anniversary Central Asian Leadership Programme (CALP) on Environment for Sustainable Development, which will take place on September 16-22, 2019 in Almaty, Kazakhstan.
This year, CALP will be organized in conjunction with the "Regional training course on water diplomacy with a special focus on gender-sensitive negotiation and mediation skills" promoted by the Organization for Security and Co-operation in Europe (OSCE), from 23 to 25 September 2019. The collection of applications for both events will continue until May 31, 2019. The programme is organized in cooperation with UN Environment Programme, European Union, , USAID, World Bank and Stockholm International Water Institute (SIWI).
The 10th CALP will mainly focus on environmental innovations and water diplomacy with emphasis on gender-sensitive negotiation and mediation skills, and designed for advanced mid-level male and female water professionals from Central Asia and Afghanistan, representing the state, non-governmental, academic and business sectors.
The overall goal of the 10th Anniversary CALP is to promote connectivity of Central Asian youth.
The CALP provides a neutral regional youth' dialogue platform for discussing water diplomacy, climate change, energy efficiency, and gender equality in the context of sustainable development. Among the CALP participants are representatives of the state, academic and private sectors, as well as civil society. Separately, it is worth noting that the CALP graduates are actively involved into activities in the field of environmental protection and sustainable development. This contributes to strengthening the role and voice of young professionals in regional cooperation.
Below you will find more information on how to apply to the 10th CALP and OSCE training
Application submission: In order to ensure transparency of the contest, CAREC will collect applications online starting from April 1, 2019. Therefore, interested applicants from Central Asia and Afghanistan are recommended to complete online registration by clicking on the link – http://calp.carececo.org/ and proceed with following steps:
Fill out the online Application Form (in English OR Russian).
Upload your essay (in English OR Russian).
Upload your CV (in English OR Russian).
Upload recommendation letter from the state body (for civil servants only).
In addition to online application, applicants must submit their CV and a brief essay explaining the willingness to participate in this programme: how it will enhance your skills, experience and achievements relevant to water diplomacy: regional cooperation in water resources management, gender equality, innovations, climate change, energy efficiency, "intersectoral approach" as an opportunity for more rational use of all resources to achieve water, food and energy security in Central Asia in the context of sustainable development. Essay length should not exceed more than one page.
Selection results: CAREC in cooperation with national and international partners shall carefully consider all applications and will select candidates for participation in the Programme. Selected participants will be informed no later than June 30, 2019.
Application and documents should be filled up and uploaded no later than May 31, 2019. Only completed applications will be considered.
Participation in CALP is free of charge; selection is based on open competition.
Preference will be given to the applicants between the ages of 28 to 45, who have work experience in the sphere of environmental protection, water diplomacy with emphasis on gender-sensitive negotiation and mediation skills, green economy, sustainable development, water resources management as well as those who have recommendation letters from state agencies in their respective countries.
Additional information:
Total up to 30 participants will be selected from five CA countries and Afghanistan, as well as it is expected an additional participation of graduates from the previous CALPs as speakers with presentations of their success stories.
Language of the Programme – Russian and English, with simultaneous translation
Financing: European Union, Secretariat of OSCE in Vienna, the OSCE Programme Office in Astana, USAID, and World Bank
Venue: Almaty, Kazakhstan
Dates of the 10th CALP and OSCE Training: September 16-25, 2019
Concept of 10th Central-Asian Leadership Programme (CALP) on Environment for Sustainable Development and OSCE "Regional training course on water diplomacy with a special focus on gender-sensitive negotiation and mediation skills"
Please contact us:

Shakirova Tatiana

Program Manager "Education for Sustainable Development" CAREC

phone +7 727 265 4334; 2654327; 2654342 (ext. 120)

email tshakirova@carececo.org

Gulmira Isabaeva

Logistics Specialist CAREC

phone +7 727 265 4334; 2654327; 2654342 (ext. 122)
email gissabaeva@carececo.org